Donuts were on the agenda this week, and they were a first for me. I love donuts . . . who doesn't? And I've wanted to try my hand at them for a while, so I figured this week was the perfect time to do just that. And I knew when I found this recipe for baked Churro Donuts on Pinterest that I needed to look no further.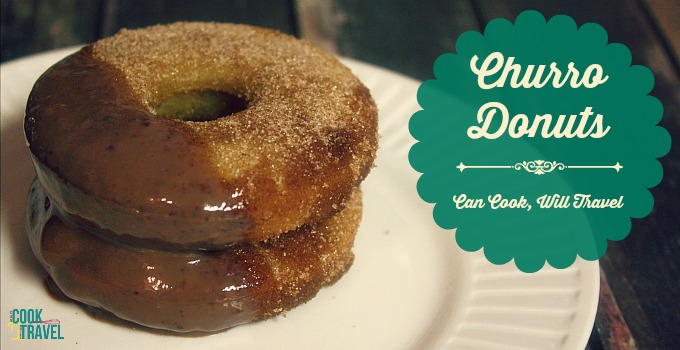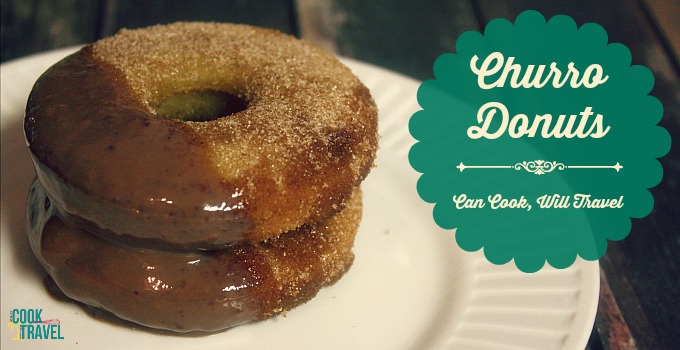 I think donuts are fun to bake because they can take on so many different flavor combinations. Plus you can make them a bit healthier by skipping the frying step and baking them instead, which is what I did for this recipe.
Probably my favorite donut experience was when I lived in London. I remember my friends and I would go to the world-famous Harrod's store, and us in our cheap grad school glory would put on blinders when it came to the expensive good around us and head straight to the food court. Now the food court at Harrod's is an experience in and of itself, and you can find just about any food you can imagine and it's very high-end. At that time they had just put a Krispy Kreme's donuts in Harrod's and we made a beeline right to Krispy Kreme and would buy a box of donuts for our roommates and salivate at the thought of the fresh, hot, off the press glazed donut that we were about to enjoy. Wow yum!
I was on a mission to recreate this when I was in London last fall, and search as we might, there was no Krispy Kreme in Harrod's anymore. What a travesty! But at least I got to experience it for a short time, because it was such a fun time.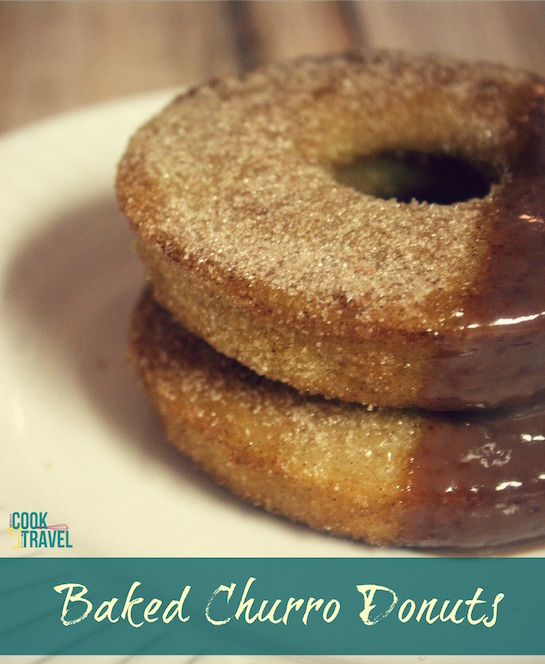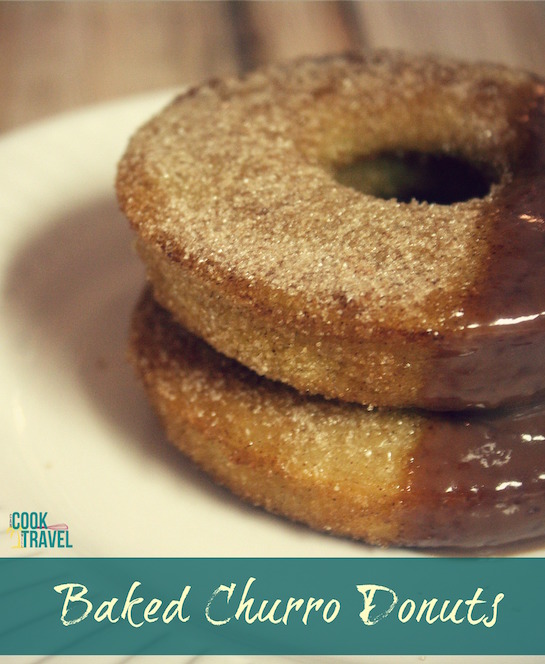 Back to this Churro Donuts recipe though. Churros always make me think of my aunt, who taught Spanish and loved bringing her favorite Mexican and Spanish foods to life for us every year. So while I miss her dearly, this was a fun way to pay homage to her by making churros but in donut form.
This recipe is a bit labor intensive, but seriously worth it! So in a mixer, you'll whip up some melted butter so it's got a bit of air whipped in it. Then add some sugar and vanilla bean paste (or good quality extract) to it. Then add eggs along with a little salt and some rum (yes, please!!). Then you'll mix together your flour, baking powder, cinnamon and nutmeg, and alternate adding the flour mixture with the milk to your batter until you have a consistency that resembles pancake batter.
The one essential tool you'll need is a non-stick donut pan for baking. They're adorable, and they work so well to allow you to enjoy donuts in a bit more guilt-free way. So you'll pour your batter into the donut pan. I recommend filling it to the top of the form in the center so that you have larger donuts that aren't wimpy looking.
Then bake away for about 15 minutes. Once the donuts are cooled, you'll officially make them Churro Donuts by brushing melted butter all over them and either dipping them in cinnamon-sugar or sprinkling the cinnamon-sugar all over the donut. Let them sit so the sugar can stick to the donuts.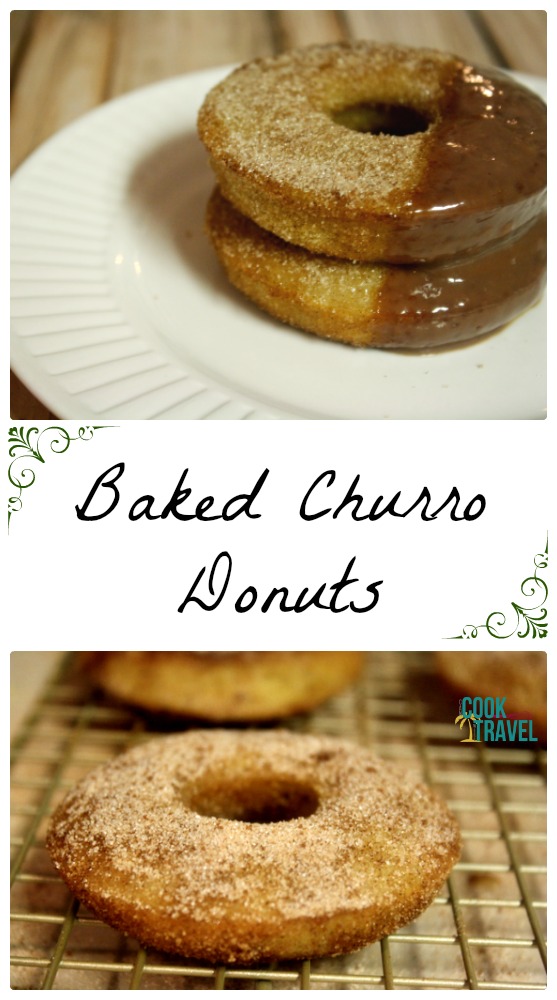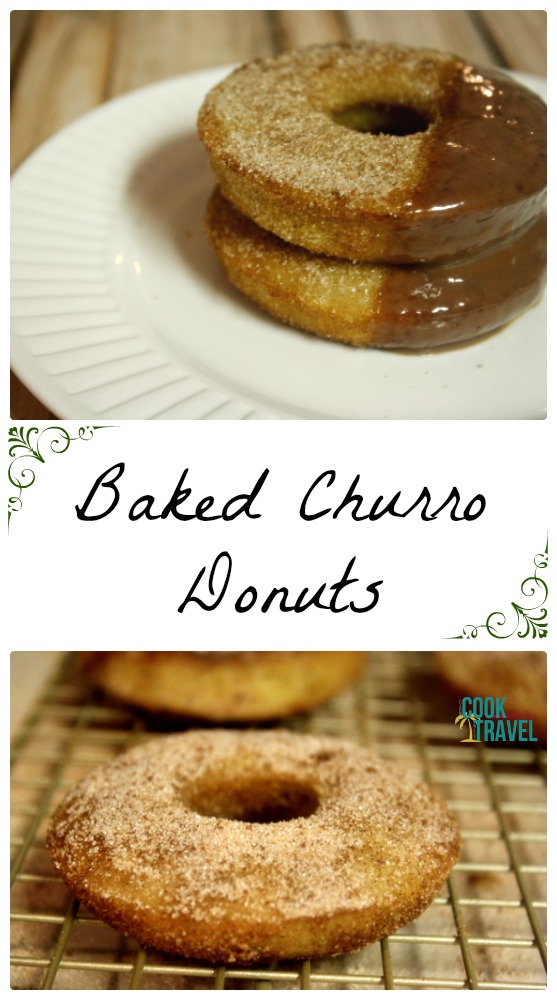 You can enjoy these as is or dip them in your favorite chocolate dipping sauce to make them more authentically "churro-esque". As you can see from the photos, I went with a milk chocolate sauce. Next time I might do more of a ganache than this particular sauce, but you'll find the details on the sauce at the link below for the recipe. They are also stellar on their own sans sauce and warmed up slightly in the microwave.
I mean, can you really beat cinnamon sugar on a donut? The answer is: No! So head over to this Churro Donuts recipe here and check out the recipe and step by step instructions. Happy donut eating, my friend!
A look back:
One year ago: Balsamic, Honey Roasted Cabbage Steaks . . . Cabbage Lovers, You're Welcome!
Two years ago: Pancakes for Everyone! Banana Nut Bread Pancakes!
Three years ago: Woohoo it's Easter, which Means Chocolate Peanut Butter Eggs Season!
Four years ago: Roasting Red Peppers . . . Easy and Delicious!
Five years ago: Scones Galore!
0