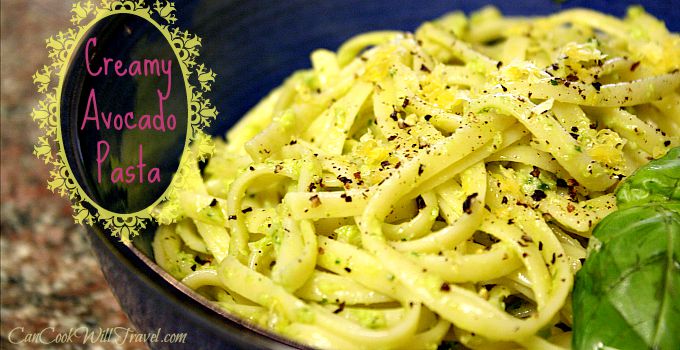 (Recipe can be found on the site Oh She Glows here.)
Step by Step Instructions:


To make this flavorful and easy dish, the following is needed: Fresh basil (about 1/4 cup), Freshly Ground Pepper, Kosher Salt, Extra-Virgin Olive Oil, 6 ounces of pasta (I went for linguine), 1 medium-sized avocado, 1 lemon (plus the zest), and 1-3 garlic cloves (I wanted to limit the garlic-y taste so I just used one large clove).

Before you do anything, go ahead and boil a large pot of water. Then cook the pasta according to the instructions on the box. While the pasta cooks, I zested my lemon, which would be used for a garnish later.

Next add the garlic, the juice from 1/2 a lemon, and 2 tablespoons of extra-virgin olive oil to your food processor and blend them.

Then I halved the avocado and removed the pit. I also washed the basil leaves so they would be ready. I set a few basil leaves aside for garnish.

Scoop the avocado halves into the food processor, and add the fresh basil leaves (about 1/4 cup) and 1/2 teaspoon of salt. Then blend the avocado sauce until it's smooth.

I added the sauce to the cooked pasta that I had drained…

…and combined it.

Serve up the pasta immediately and top with freshly ground pepper and the lemon zest and some basil leaves to add color. I hope hits the spot for you, because I found it to be delightful! Seriously though, did you see how fast this came together and how easy it was? Perfect for a busy weeknight. Happy eating!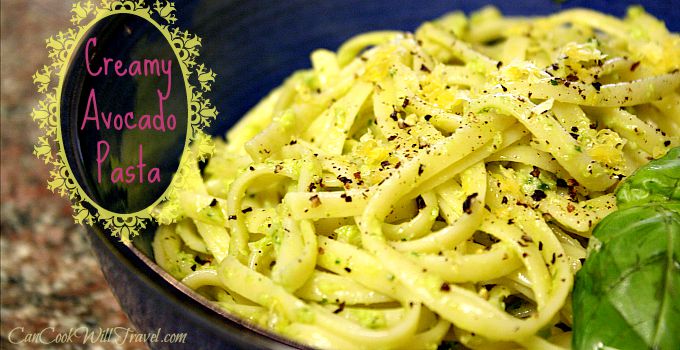 15 Minute Creamy Avocado Pasta
This is one of my favorite pasta dishes I've made. The creaminess of the avocado allows for a delicious sauce with no guilt!
Ingredients
1 medium sized ripe Avocado, pitted
½ Lemon, juiced + Lemon Zest to garnish
2-3 Garlic Cloves, to taste (I used 3 and it was quite garlicky, but if you are not a big fan of garlic use 1 clove)
½ tsp Kosher Salt, or to taste
~1/4 cup Fresh Basil, (probably optional)
2 tbsp Extra-Virgin Olive Oil
2 servings/6 oz of your choice of Pasta
Freshly ground Black Pepper, to taste
Preparation Instructions
Begin by bringing several cups of water to a boil in a medium sized saucepan. To the boiling water, add the pasta and reduce the heat to medium, and cook until al dente, according to your package's instructions.
While the pasta cooks, make the sauce by placing the garlic cloves, lemon juice, and olive oil into a food processor. Process the mixture until smooth. Add in the pitted avocado, basil, and salt. Continue to process the sauce until smooth and creamy.
When the pasta is done cooking, drain and rinse it in a strainer and place pasta into a large bowl. Pour sauce over the pasta and toss until fully combined. Garnish with lemon zest and black pepper. Serve immediately.
0