Friends, I have GOT to tell you about a film you must check out. Okay let's start off by giving credit where it's due. My friend Kara saw this at a film festival earlier this year, and she told me it was really great and worth checking out…she was right!
The film is called Tim's Vermeer, and I got it on Netflix DVD (it's not streaming yet), but it was SO worth it. In fact, I'm holding onto the DVD for a few more days so I can watch it again but this time with my mom and sister this week.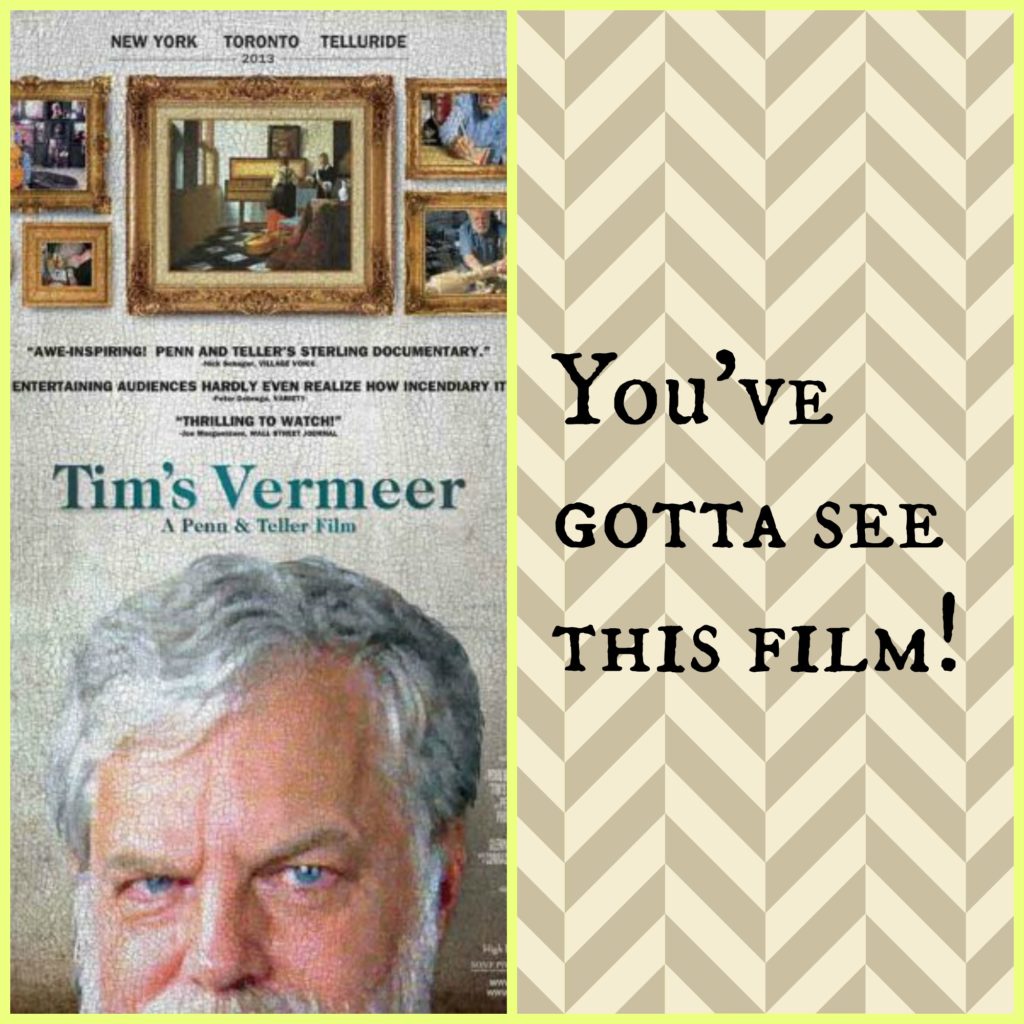 If you know me, you know that I have my Master's in Art History, and so I kinda like art a tiny bit…okay a whole lot! It's been a while since I've seen something art-related that really excited me, mainly because I'm busy and don't get a lot of time to enjoy art these days. And this documentary was too damn cool!
Here's the deal…Johannes Vermeer is a Dutch painter, and you can check out more info about him here.  You may be familiar with his painting The Girl with the Pearl Earring, since there was a book and a movie about it. But the thing that makes Vermeer's paintings unique is that his paintings are uncanny in how realistic they are and how the light plays in the paintings. And that's where Tim comes in.
Tim Jenison is an inventor and NOT a painter, and he's also longtime friends with Penn Jillette (of Penn & Teller fame). Tim's gone down many paths in his career and life, and it turns out this obsession with Vermeer was his most difficult path. Tim was obsessed with Vermeer because he thought that Vermeer utilized some sort of an invention to help him paint the most realistic painting possible, and Tim was determined to recreate a Vermeer. I repeat he is NOT a painter, and he took up painting with this obsession.
So off he went to create a tool involving a mirror and did a ton of research. His goal was to use materials and processes that were only available for Vermeer and to see if his version of the painting using his tool would even come close to matching Vermeer's painting.
Don't worry, I won't spoil it for you. But this documentary and Tim's process and dedication was completely fascinating and intriguing, and I got so excited that I HAD to blog about it. If you love art and/or documentaries, then this film needs to be added to your queue ASAP.
I hope you enjoy!! Happy viewing, my friends!
0