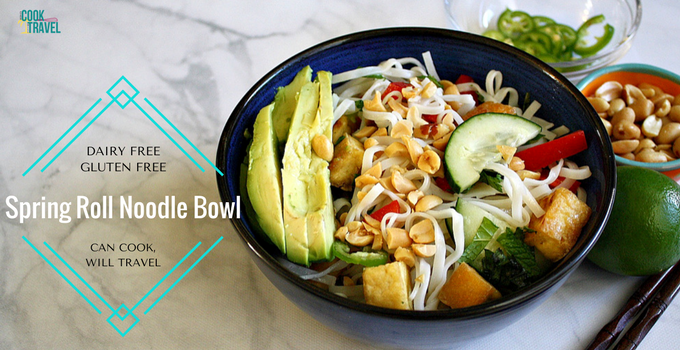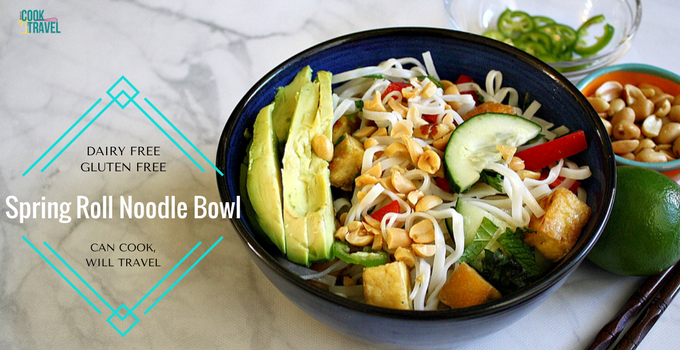 (This Spring Roll Inspired Noodle Bowl recipe is delicious, so you can also find it on the site Pinch of Yum here.)
Step by Step Instructions:

I love that this Spring Roll Inspired Noodle Bowl is really customizable and encourages you to fill it with what you love, so here's what I used: Chopped Peanuts (unsalted for topping), Rice Vinegar, Agave, Fish Sauce, Fresh Cilantro, Fresh Basil, Fresh Mint, Peanut Oil (Canola or Vegetable Oil would work too), Rice Noodles (this was about half of a package), fresh Limes (enough for about 1/3 cup of juice), 3 cloves of Garlic, a Cucumber, Serrano Pepper (Jalapeño would work too), Red Pepper, and then Tofu. You can switch out the veggies to be what you like, but I would recommend sticking with this combo of herbs as it's too good to miss. And the tofu can be switched out for your favorite protein, but I went with tofu because I really love how light it is in bowls like this.

In advance you can do a few things, so I took the opportunity to thinly slice a few pieces of cucumber.

Then I cut the cheeks off of the pepper to remove the stem and ribs.

To julienne the pepper, I thinly sliced lengthwise down each piece of pepper, and then I sliced across as you see here to get fairly thin, bite-sized pieces.

Then I thinly sliced a serrano pepper, and wow do they pack a punch!

About 30 minutes before you're ready to serve this Spring Roll Inspired Noodle Bowl, soak your rice noodles in cold water for 30 minutes or until they're tender, because this will help them keep from getting too sticky.

While the noodles soaked, I cooked my protein, and you can also do this in advance if you'd prefer. I make crispy toful by first patting the block of tofu with paper towels to remove as much moisture as possible, and then cutting it into 1-inch strips. Then I freeze it for at least an hour, and pop that frozen block in boiling water for 15 minutes and flipped it over halfway through. Transfer the tofu strips to a lined plate with paper towels and then once they're cool enough to handle, cut into bite-sized pieces. Then heat a skillet over medium heat, add some grapeseed oil and cook the first side for about 5 minutes and then flip and cook the other sides for 1-2 minutes for a crispy tofu.

While you have time, chop some peanuts roughly.

Wash your cilantro, basil, and mint leaves and then pat them dry. Pile some cilantro and mint on some basil leaves, because they're larger leaves. Then roll the basil into a cigar shape and cut across the leaf to thinly slice the herbs, and this technique is called a chiffonade.

While noodles are nearly done soaking, you can go ahead and make the garlic lime dressing for your Spring Roll Inspired Noodle Bowl, because you're close to eating! So add 3 cloves of garlic (this is 3 although it looks like 4), 2 tablespoons of rice vinegar, 1/4 cup of agave, 1/4 cup of fish sauce, 1/3 cup of lime juice, and 1/3 cup of peanut oil to the blender.

Blend the dressing until it's smooth, and then blend it again right before you're ready to put the Spring Roll Inspired Noodle Bowl together.

Once your noodles are tender, pop them in some boiling water and then cook for 1-2 minutes. Drain and rinse with cool water, because the water will stop the noodles from cooking further.

Finally it's time to put your Spring Roll Inspired Noodle Bowl together. I found it easier to combine each serving on its own, because you can ensure each bowl has the same amount of ingredients. Add some noodles, as many veggies as you'd like, about a tablespoon of herbs, your protein and then 1-3 serrano slices depending on how much heat you want. Pour a little dressing over it, and then you can add more as you need it.

Then toss all of the ingredients together until they are coated in the dressing and serve immediately. Top with your chopped peanuts and slice half an avocado for each serving and then enjoy the light, bright flavors that this Spring Roll Inspired Noodle Bowl has to offer. I can't wait for you to try this one, so happy noodle eating!!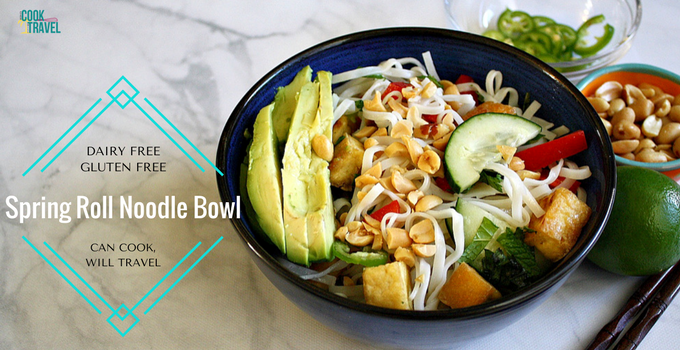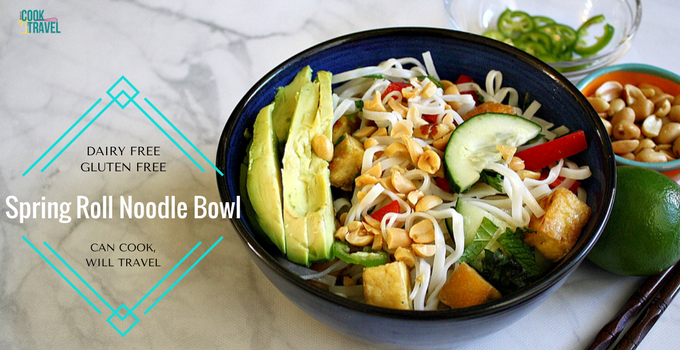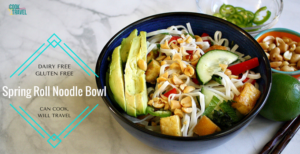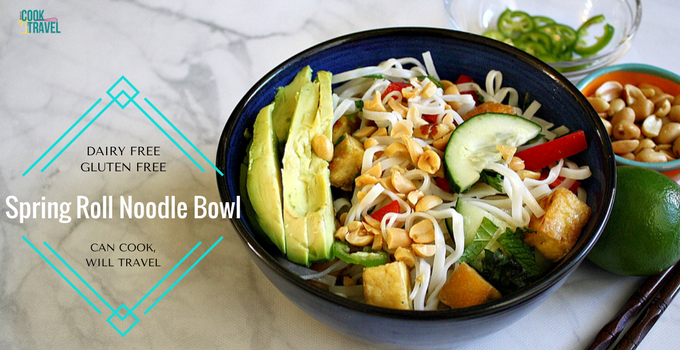 Print
Spring Roll Inspired Noodle Bowl
Yield 4 servings
This noodle bowl that is like a deconstructed spring roll is packed with veggies, a bright dressing, fresh herbs, and is healthy and so good!
Ingredients
Sweet Garlic Lime Dressing:
3 Garlic cloves
2 tablespoons Rice Vinegar
1/4 cup Agave (or Brown Sugar)
1/4 cup Fish Sauce
1/3 cup fresh Lime Juice
1/3 cup Peanut Oil
Creating the Bowl:
Rice Noodles
Basil, Mint, and Cilantro (Find all three & use them)
Serrano Peppers
Chopped Peanuts
Sliced Avocado
Veggies: Cucumbers, Red Bell Pepper, etc.
Protein: Tofu (or your favorite protein like shrimp, tofu, chicken (optional)
Instructions
If you're using a protein, you can make it in advance. In my case, I did some crispy tofu and had that made in advance. Then prep your bowl ingredients by chopping whatever you need such as herbs, nuts, peppers, and veggies.

You can cook your rice noodles per the package instructions. I went this route and soaked mine in cold water for about 30 minutes or until they were tender, and then cooked them in boiling water for 1-2 minutes. I really liked this method!

Right before you're ready to put your noodle bowl together, you can make your dressing. Add the garlic, rice vinegar, agave, fish sauce, lime juice, and oil to a blender and blend until it's smooth.

To combine the noodle bowl, just add the noodles, chopped veggies, peppers, herbs, and protein to a bowl and toss with some of the dressing. Then serve right away and top with some chopped peanuts and sliced avocado for added texture. Serve right away and enjoy!
Notes
Quick Tip #1: I did about a tablespoon of peanuts per serving, and half of an avocado per serving. Have fun with this recipe and use whatever veggies you love or would put in a traditional spring roll!
Quick Tip #2: Store all of the leftover components separately, and then combine and toss with more dressing as you eat the leftover noodle blow. That way the vegetables and tofu stay crisp. I do like to toss any leftover noodles with some of the dressing to make sure they are well coated so they don't stick together in the fridge.
Courses Dinner
Cuisine Asian
Nutrition Facts
Serving Size 1/4 of noodles & dressing (or less)
Amount Per Serving

Calories 271

% Daily Value

Total Fat 18 g

28%

Saturated Fat 3 g

15%

Unsaturated Fat 14 g

Sodium 1541 mg

64%

Total Carbohydrates 65 g

22%

Sugars 4 g

Protein 2 g

4%
* Percent Daily Values are based on a 2,000 calorie diet. Your daily values may be higher or lower depending on your calorie needs.


0