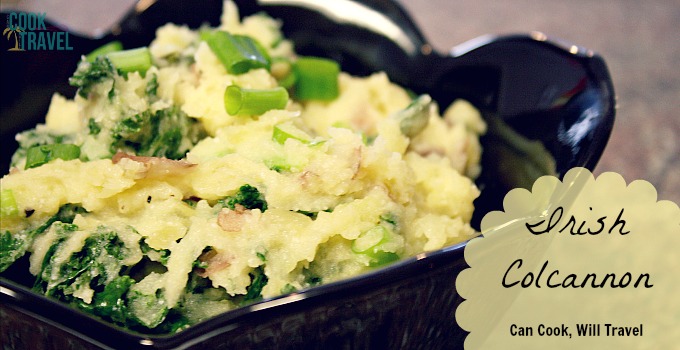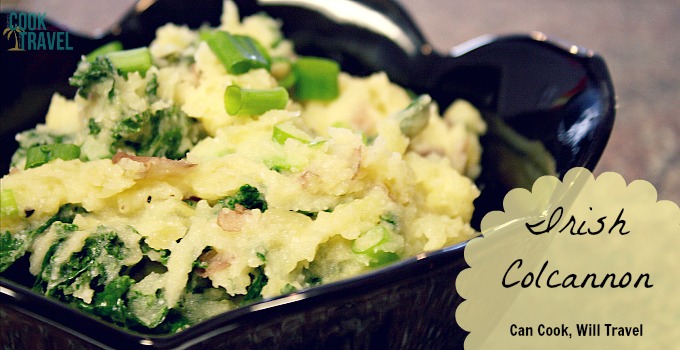 (This Colcannon recipe can be found on the site A Couple Cooks here.)
Step by Step Instructions:


Colcannon is a potato dish that is packed full of flavor with these ingredients: Olive Oil, Milk, Parmesan Cheese, Salt and Pepper, Minced Garlic, Red Potatoes, a bunch of Kale, and Scallions.

I begin by chopping my potatoes into small pieces with the skins on. Then I covered them in a pot with water and brought the pot to a boil. Once the water boils, cook the potatoes for about 15 minutes or until they are tender and mashable.

One thing to note is that I halved this recipe so I didn't have too many potatoes tempting me from my refrigerator. So I washed about half of a bunch of kale and removed the stems.

Then I cut them into bite-sized pieces.

I heated 1 tablespoon of olive oil over medium heat in a pan.

Once the oil was warm, I added about 2 cloves of minced garlic to the the pan.

The the kale gets added to the pan and is sauteed for about 4 minutes.

While the kale was cooking, I chopped up 2 scallions and set them aside.

The kale was done in no time, so I gave a stir, added about 1/8 teaspoon of kosher salt to it and removed it from the heat.

Then I heated 1/2 cup of milk for 1 minute in the microwave just to warm it up.

I also measured out 1/4 cup of Parmesan cheese so that it was waiting for me when I needed it.

Once the potatoes were done, I drained the water and added the warm milk to the potatoes.

Using a potato masher, I mashed them up. I like them pretty chunky, but you can always add more milk to thin them out.

Then add some salt and pepper to season them.

The kale, chopped scallions, parmesan cheese, and 1 tablespoon of oil then get added to the mashed potatoes…

…and thoroughly combined…yum! Then serve the Colcannon to your favorite people and they will love you even more. These potatoes would be fabulous with a great steak or grilled chicken. But again, please don't judge me that I just ate my bowl full of potatoes and was one happy camper! Hope you enjoy this great use of kale and channel the Irish with a bit o' Colcannon!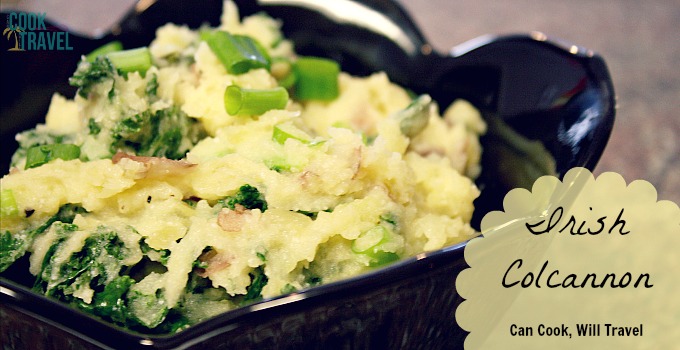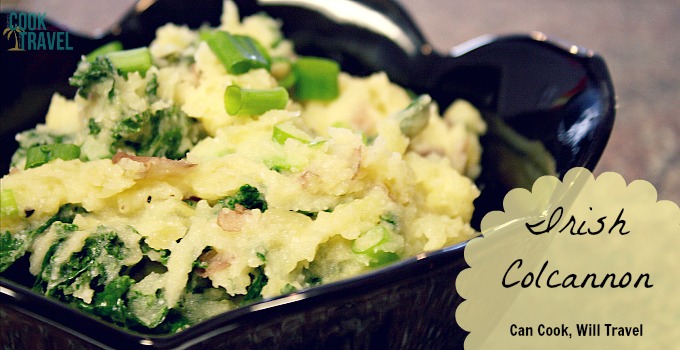 Colcannon
If you love mashed potatoes like I do, then you are about to be a very happy foodie!
Author:
Inspired by 101 Cookbooks
Ingredients
3 pounds red-skinned potatoes
1 cup milk
1 bunch kale
3 tablespoons olive oil
4 to 6 cloves garlic
4 green onions
½ cup parmesan cheese
Kosher salt
Fresh ground pepper
Preparation Instructions
Chop the potatoes – do not peel. Place the pieces in a pot and cover with water. Bring to a boil and boil until tender, about 15 minutes.
Meanwhile, dice 6 cloves garlic. Wash the kale leaves, remove the tough stems, and chop the leaves into small pieces. In a skillet, heat 2 tablespoons olive oil; then add the kale and garlic and saute for about 4 minutes until the kale is completely wilted and tender. Season with ¼ teaspoon kosher salt.
Chop the scallions. Warm the 1 cup milk in the microwave (for about 1 minute).
When the potatoes are done (test with a fork or by tasting), drain them. Then pour in the warm milk and mash the potatoes with a masher, adding more milk if desired to get to a thinner consistency. Season with about 1 teaspoon kosher salt and lots of fresh ground pepper. Then stir in the kale, garlic, chopped scallions, 1 tablespoon olive oil, and ½ cup parmesan cheese. Taste and adjust seasonings as desired, adding more olive oil, cheese, salt, or pepper as necessary.
0