I love to be unique, don't you? I mean how boring would it be if we all looked, sounded, and acted the same? So that theory, of course, holds true to my favorite gadgets too. Which is where the art of the skin comes in.
What the heck do I mean, right?! Well I'm all about being able to let my personality shine through even when I'm silent, and "skinning" your devices (as my mom, sister, and I like to say) is a fabulous way to do this. And PS…it's not as scary as it sounds! It truly doesn't matter what your interests are or your aesthetic is, you will find a skin or case to to fit your unique style. Plus you can always create your own design if you're inspired to do so. It'd be a great way to non-nonchalantly advertise your business if you are a business owner.
When I refer to a skin, it's really just a sticky decal that fits on your favorite phones, iPods, laptops, tablets, game consoles, and e-readers. The premise is easy, find a design you like and decide if you want it in a case form (if it's for your phone), or the decal/skin. Then when you order it, you get a large sheet and it's like being a kid again as you're applying the decal. Okay a very OCD kid, because it would drive me INSANE if the decal didn't line up perfectly. But overall it's really easy to apply and they come off of the device when you're ready to change it up without leaving any residue.
Right now I have skins on my iPad, Kindle keyboard, and Kindle Fire (yes I own a lot of technology and I'm NOT apologizing for it). Then I have a case for my iPhone as well. So you're probably asking, where do I find these skins and why do I need them? I'm glad you asked!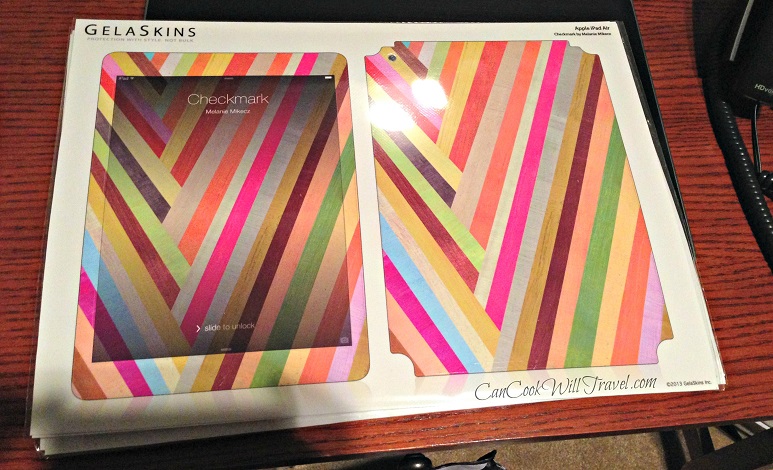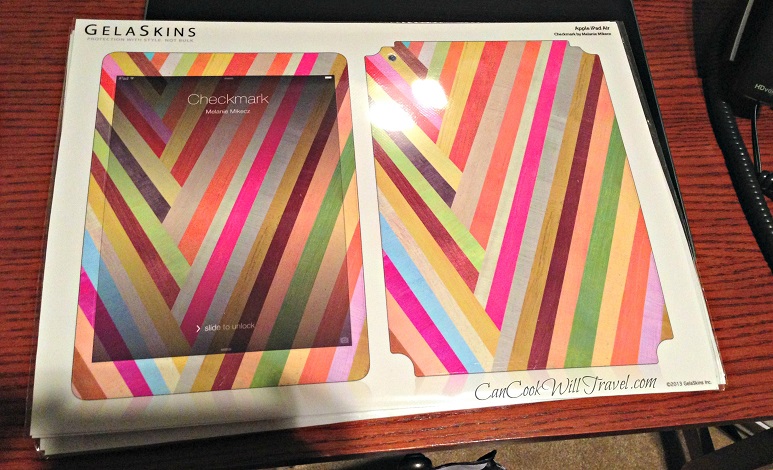 You can purchase skins and cases a number of places. I've used Decal Girl and Gelaskins a number of times. At the moment, my iPad features the Checkmark skin from Gelaskins and my Fire sports a no longer available skin that I loved called Orient from Decal Girl. My Kindle Keyboard is wearing this adorable Enamored Whale skin from Gelaskins. As for my phone, well I have a case on that one which I got from Etsy. Etsy has TONS of awesome options for cases.
Now here's the thing…it's easy to see why a case is useful on a phone to protect it if you drop it. But a skin is also not only great to pretty-up your device, but it also helps add a thin layer to protect it from scratches when you're traveling with your gadgets. I have lost count of how many times I've shoved my iPad in a bag or purse and have been thankful that the skin provides a bit of protection from rogue keys, pens, etc. that could have scratched my expensive technology. So it's not only cool but also useful! Plus if you and your spouse, friend, or family member have your own iPads, adding a fun skin to your device will help prevent them from getting mixed up. Win, win in my book!
So next time you sit down to read or play a game and start thinking how blah/boring your gadget is, swing on by one of these sites and add some color and personality to your stuff. They are inexpensive, last a long time (my Kindle Fire has had the same skin on it since 2011), are a great conversation starter, and are easy to change out if you want a new look. Plus Decal Girl and Gelaskins offer discounts regularly to people on their mailing lists, so it's easy to get great deals on them!
Hope I have inspired you to unleash your inner creative self a bit. You'll have so much fun picking out all of your skins! I can't wait to see what you choose. Happy Skinning! (Ew, not like that!)
0