I have to admit something here. It's probably obvious from my blog that I LOVE to travel, but the complicated part of that is that I pretty much detest packing. I definitely wait until the last moment to start packing for about 99% of the trips I take.
The last thing I tend to pack is my jewelry. And over the years I've found some great ways to pick out my jewelry quickly, because I'm always limited on time at that point of my packing and an overabundance of jewelry.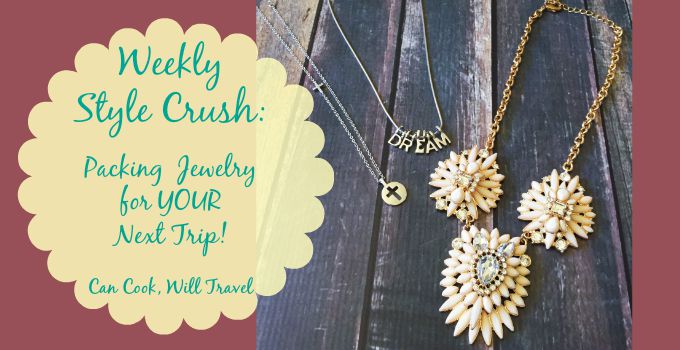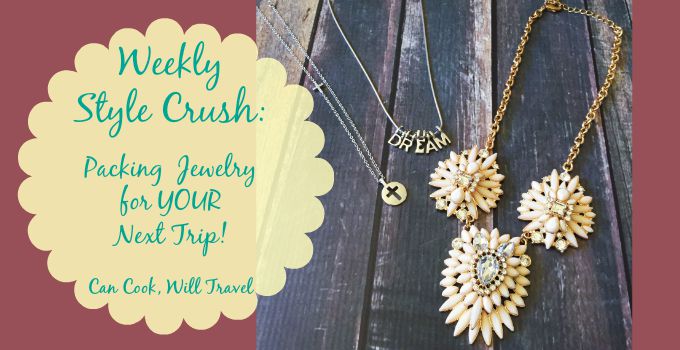 And with a trip coming up this week and then at least one trip every month through at least October, packing has been on my mind.
So here are some tips for you that have been SUPER helpful for me when packing jewelry for trips:

Evaluate Your Tops
I lay out all of the tops and dresses I'm packing and see what kinds of necklines I'm going to be wearing on the trips. This really helps me figure out the necklace lengths I need. V-necks and scoop necks are great for short necklaces, and cowl necks and boat necks are wonderful for longer necklaces like pendants and beaded strands. (For more tips on what types of necklaces to wear with different necklines, check out this Weekly Style Crush.)

Another thing to take note of are the patterns and colors you're working with. Sometimes your tops may have a pattern or busy neckline. In those cases, you don't need to worry about necklaces as much because they'll compete with your clothes and get lost a bit. Instead I like to choose some large earrings or stack some bracelets with those tops or dresses.

Have a Mix of Metals
With your outfits laid out, keep the colors you'll be wearing in mind and decide what color metal will look best with each look. Be sure to have a mix of silver, gold, hematite, and rose gold, because let's face it…you'll want options.
A lot of times it's really a preference of the metals you wear the most. I wear a ton of gold and then add in some silver and rose gold quite often. Be sure you're choosing pieces that will coordinate well together so you have full looks. I like to have at least 1 pair of earrings, ring, necklace, and bracelet in each metal I pack so I don't have to do too much thinking on a trip.

Stick to the Basics
Pack pieces that can work with multiple outfits. That will give you more options for each outfit and you end up packing smarter and lighter. I really love items like Inner Circle and Connections necklaces and bracelets that look great with several outfits.
Small bangles and bracelets that can be worn stacked together or on their own are perfect when traveling. The 3 I never leave home without are Encircle, Terrific, and Serena.
I keep my earrings pretty simple by packing a couple of easy to wear studs. I pick 2 hoop earrings and one of my favorite hoops are the Hoop earrings (yep, that's their name!) and they come in all 4 metals…score! And then some fun dangles like Step Up in rose gold, Whisper earrings, and Erika earrings (which come in hematite) are great when traveling.

Pack Your Favorite Pieces
I always feel more at ease when I'm wearing pieces that I love and wear a lot when I'm at home. So there are standard pieces I try to not leave home without.
Typically I pick a couple of short necklaces like Inner Circle & Infinite which go with every outfit. Then I will grab a couple of statement necklaces in case I'm going out to a nice dinner or event and want to dress up a bit. And I cannot leave home without a decent assortment of rings. Affection, Now & Forever, Rio, and Viva are just a few that are easy to dress up or down.
Let's Recap:
Lay your jewelry out on your tops you're packing to see what you can wear with multiple tops or dresses and get an idea of just how much jewelry you'll need.
Bring jewelry in different metals so that you have some variety. Plus mixing metals is a big trend right now, so mix them up and play!
Stick to the basics and pack pieces that are classic and go with multiple outfits so you pack smarter and lighter.
Finally don't forget your favorite pieces that you wear every day and really love. You'll feel more confident and they typically create a great foundation for jewelry looks you're putting together.
I hope these jewelry packing tips help to get your packing on track! I know they've really streamlined my procrastinating packing routine.
Can't wait to hear what trips you have coming up or just took! Comment below and let me know!
0