Hello, my name is Kelli, and I'm a ring whore. I can't help it…I am who I am. I love rings. I have a lot, and I am not apologizing for that. Choosing the first Park Lane ring to feature here was insanely tough, but in the end I had to go with the Viva ring.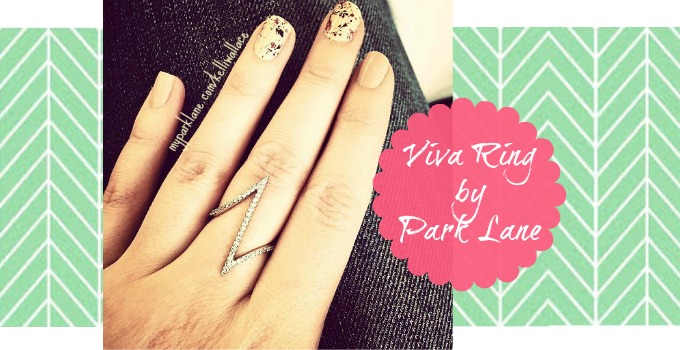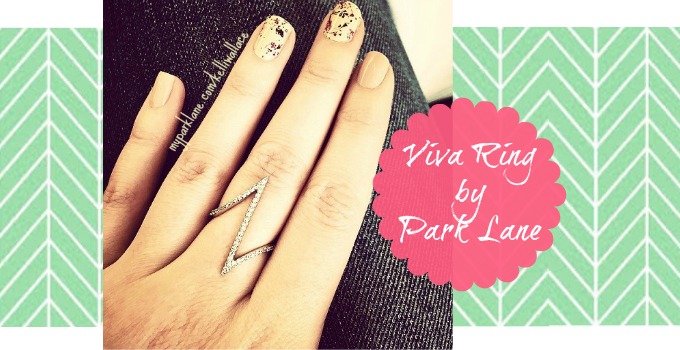 Why, you ask? Well the Viva ring is too damn cool not to show you. It's super edgy and yet it seems to fit with every look. It is one of my favorite rings to throw on when I want to feel polished and like I've got my sh!t together.
Are you a jeans and tee kinda woman? Perfect! Most days I am too. Since I work from home, throwing on jeans instead of yoga pants is dressing up in my world and skinny jeans means I'm really dressed up…sad, but true! I'm sure a few of you can relate. And the Viva ring suddenly makes me feel right on trend when I throw it on with a pair of skinny jeans, a cute top and flats or flip flops.
But if you are rocking an edgier look, this ring perfectly compliments that too in all of its pointy glory. It's so damn fun!
And if you are really dressed up, guess what? The Viva ring is covered in little crystals and can easily be dressed up to finish off a look.
And seriously how adorable is it with these fun floral nail wraps I wore a few months ago?! Feminine plus edgy makes for a flirty, confident look.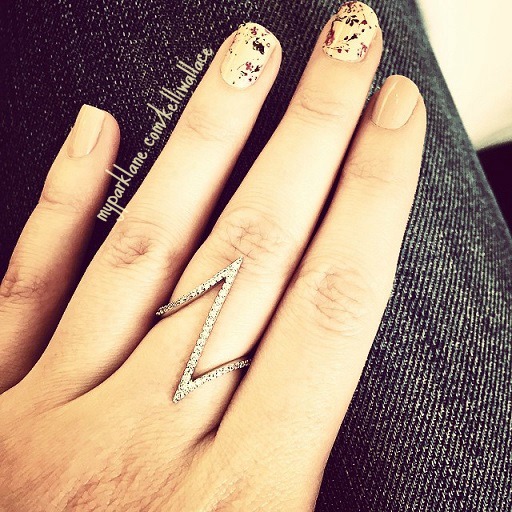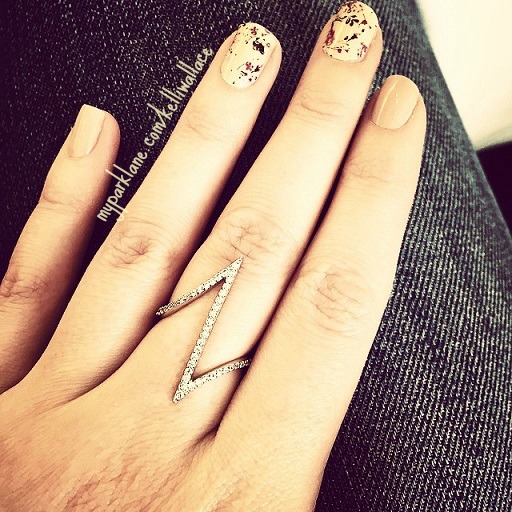 So whether you're style is more casual, rocker chic, or glam, this Viva ring totally complete your outfit.
Now let's talk deals. Cuz if you're like me, you are ALL about getting the most bang for your buck! Park Lane has customer specials that are seriously MIND BLOWING! (I'll have to devote a full post to their awesomeness.) Check this out…the Viva ring retails for $69 and prepare to be amazed by the image below, which shows you how you can get a complete look to rock that Viva ring and save BIG! (And don't forget every item is unconditionally guaranteed…forever!!)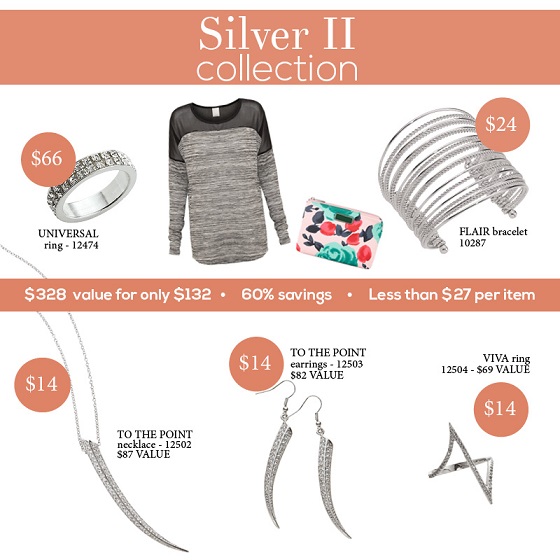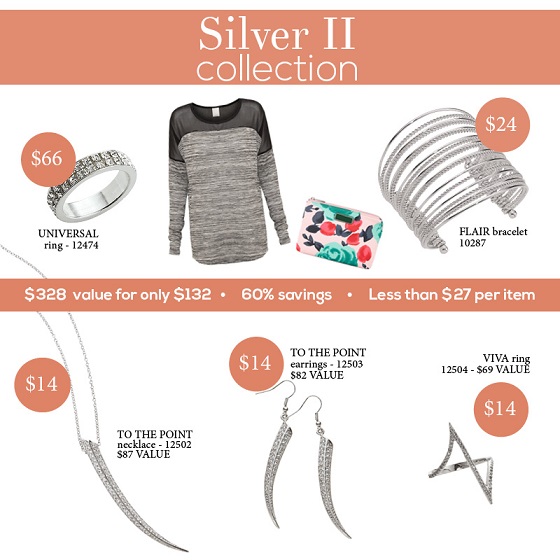 I'm kind of obsessed with this Silver II collection. The silver is so easy to wear with any skin tone, looks great dressed up or down, and you can mix and match these pieces with other jewelry in your personal collection. If you are loving this combo of jewelry too, and you want to get it for yourself, here's what you'll do:
Then just add the Universal ring and Flair bracelet as your regular price items in your shopping bag. (Use the search bar and type in the jewelry name, select the item and click the "Add to bag" button.)
Go into your shopping bag (top right of page) and you'll see you've earned 3 BONUS ITEMS. Basically when you spend at least $90, you're able to get any 3 items that retail your subtotal or less for $14 each. Click the $14 tag or else the link that says you've qualified for your bonus item, and go pick out what you'd like. If you want to do this set, then for the 3 bonus items, you'll add the To The Point necklace and earrings and the Viva Ring.
Once you have a $90 or more subtotal every customer qualifies for a FREE 4th bonus item once you use your 3 $14 bonus items…how cool is that?! We all love free, right?!! So shop away!
Note that you do NOT have to pick the jewelry in this image for your bonuses…you can always swap out something else you love instead. (The world is your oyster and you deserve to get what you love.) There is plenty to love with Park Lane's HUGE online selection, and there is most definitely something for everyone!
Feel free to comment below or contact me thru my Contact Page or my Park Lane website for questions. And I'd love to read your message in the comments section on this post with what YOUR style is…classic, bohemian, edgy, glam, romantic, arty, preppy, etc. or are you still trying to determine that? Let me know! I'll start…I tend to lean towards classic styles and throw in a little edginess with my jewelry like Viva.
LONG LIVE THE VIVA RING!
0