We're talking ring noodles this week. What's a ring noodle? (I'm guessing you might be asking this, or else assuming I'm making stuff up.) Well let me tell you that a ring noodle is your ring's new BFF.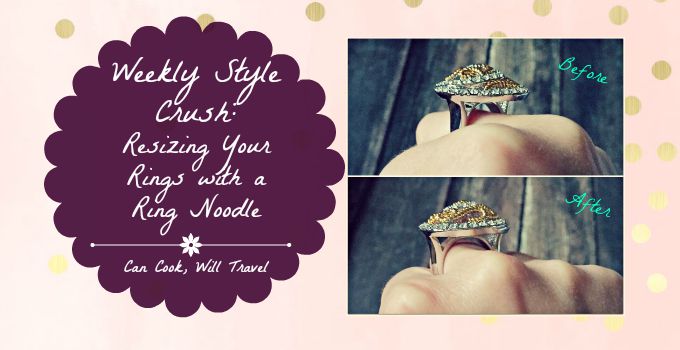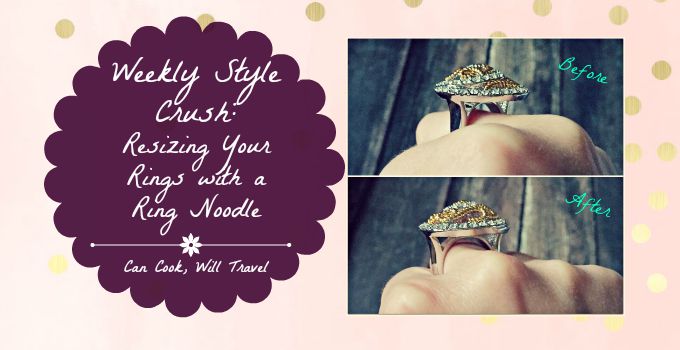 I stumbled across this magical product a few years back. I realized as a person with tiny fingers who also helped other ladies with small fingers shop for jewelry, that sometimes the ring you're DYING to have doesn't come in a size small enough. Or the size that should fit is half a size too large. Ugh, right?!
So when one of my friends got a ring in the smallest size we could get and it was still half a size too big, well I was on a mission to help figure out on behalf of all women: How to re-size your ring.
Enter the ring noodle! And guess what?! The ring noodle will help increase your jewelry collection when it comes to rings, by making more rings wearable for you. Gotta love that!
I started Googling and came across this amazing product. Here's the listing to the one I have purchased over on Amazon. What I love about this particular product is you buy 3 different sizes in 1 package that focus on your ring's band width. There's a small ring noodle for delicate bands, a medium sized noodle, and finally a larger one for bigger bands (within reason). Oh and it's a steal of a price ($5.49 plus shipping)!
And this absolutely helps to add about half a ring size to your ring.
Here's how it works:
Select the ring you want to re-size with the ring noodle.
Determine if it's a thin, medium, or wide band so you know which ring noodle you'll need. You can also cut the noodle down so it's smaller, as you can see here.

Follow the directions on the package to attach the ring noodle. The noodle is plastic with a slit down one side. You'll open the slit and work the noodle onto the band of your ring so that it wraps all the way around the band. The slit will be facing the inside of the ring at this point. Then you'll want the slit to face out, so the smooth part of the noodle is touching your finger, so give it a twist and voila!

And that's it! You'll find that it sizes up your ring about half a size, which is pretty stellar!
When you might find a ring noodle crazy handy:
Next time you find a loose ring you can't live without … add a ring noodle!
When you get that box of family costume jewelry with some awesome cocktail rings that don't quite fit … pop on that ring noodle!
Want to order a ring but they only have them in the size above what you need … get that ring and put a ring noodle on it!
Or maybe you've lost weight (congrats!) and your favorite ring doesn't fit … get yourself a ring noodle!
So next time you are rocking a ring and notice that it's a bit big and could fly off your finger at any moment, fear not! You have a ring noodle! And yes, that has happened to me and the ring flew down a flight of stairs in front of my boss at the time … I can't help it, I talk with my hands!
I definitely can't wait to hear what you think of this product. It's been a real ring life saver for me the past several years, and I hope it helps you and my fellow ladies with delicate fingers or rings that don't quite fit. And now you know how to re-size your ring!
Stay inspired & make that ring fit!
~Kelli
0