Ugh Facebook, you are ever changing! And I hear the handful of you out there who haven't joined the Facebook world saying "Facebook is the devil".
But it isn't … really! There's a lot of good that Facebook provides, however they sure do make it a challenge to find what you care about these days. And that's where our Weekly Style Crush comes in, so we can start styling Facebook to personalize it and make our lives easier.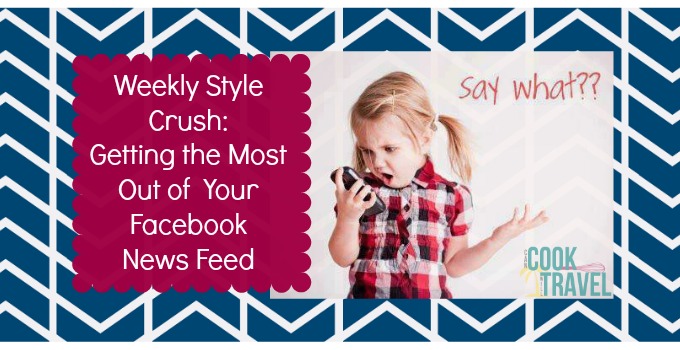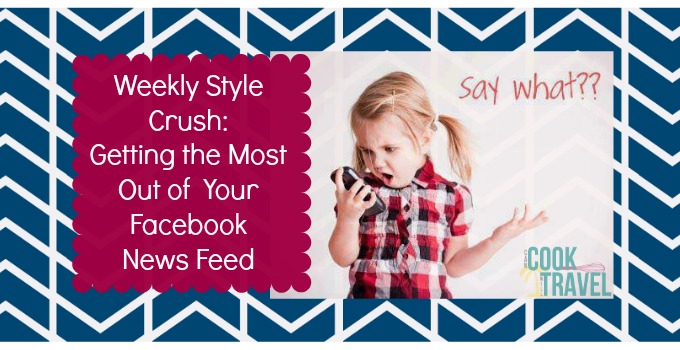 So I thought I'd share a couple of handy, dandy tricks to take control back and show you how to make your Facebook news feed work for you!
Let's dive right in and learn a few fun tricks:
1. Wait! This is from yesterday!!
Yes, Facebook sometimes decides for you that you should see top posts from your friend list rather than most recent posts. I don't know about you, but I like to know what's happening right away, so I like seeing the "Most Recent" list of posts most often.
Although, if I've been crazy busy, I am thankful when the "Top Stories" show up instead. It is great when I pop on and see that one of my friends got married, engaged, had a baby, or generally just posted some damn funny stuff!
To toggle back and forth between the Top Stories and Most Recent posts, go to your news feed (or click the home button) and when you're on your desktop you'll see a little down arrow. Click that and you'll get to choose what you're seeing.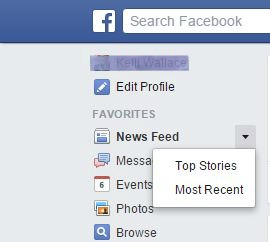 2. Work those Favorites!!
Are you managing Facebook pages or in groups that you're an admin of or just want to keep close at hand? I know I am, so I'm betting you may be too.
So take advantage of your Favorites section. This is located in the top left section of your news feed. Simply hover over a group or page on the left-hand side and you'll see a gear. Click it and you have the chance to add or remove it from your Favorites list or rearrange it in the list.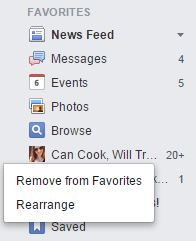 This helps me be a bit more efficient so I can find the groups and pages I'm super active in and keep them in one easy to access place.
3. Don't Just Like It … See It First!
I think the worst change with Facebook is that I no longer see the stuff I want. Instead my feed is filled with random news, ads, and I end up missing updates from pages that I like.But there's a great way to make sure you keep up.
Here's what you do…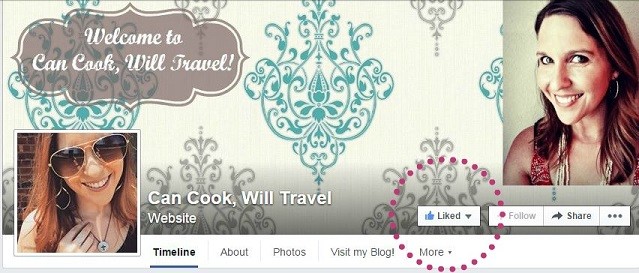 First go to the page you like and if you haven't already, officially "Like" it. Go ahead and click that Liked button.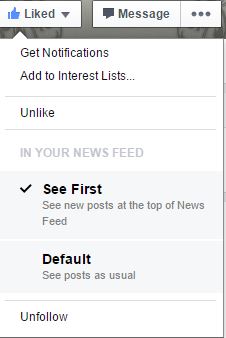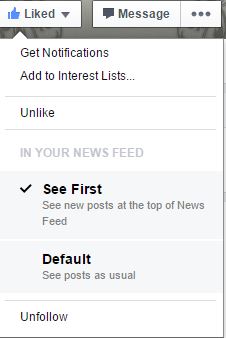 Then you'll click on the Liked button and you'll see some options here. You can:
Get Notifications where you can get notified anytime this page posts something new.
Add to Interest Lists where you can do just that … add it to your list of interests on the left-hand side of your news feed so it's easy to access your favorite pages quickly.
Unlike which lets you unlike this page.
2 Options in your news feed, either See First or Default. Now THIS is where it gets cool.

Default lets these posts land wherever they may in your news feed.
But See First means that you will have new posts from this page show up at the top of your news feed so it's impossible to miss. This is the BEST!! Now if there are great pages you want to stay on top of, you can see them first!

Unfollow which lets you do just that, and unfollow the pages that you're following.
So there you go – you've got 3 fun Facebook tips to show you how to make your FaceBook news feed work for you. Helping you be efficient, keep everything you need right at your finger tips, and see everything you want to stay on top of right away!
Stay inspired & take back control!
~Kelli
0