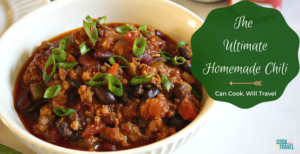 The Ultimate Chili Recipe
Yield 10 servings
Don't let all of these ingredients stop you from enjoying this recipe, because hands down it's the best chili I've ever made. Each ingredient is perfect in this dish, and I know you'll love this gluten and dairy free version!
Ingredients
Chili Ingredients
85/15 Ground Beef, 1 pound
Extra-Lean Ground Turkey, 1 pound
1 T. Vegan Butter (or sub regular butter)
2 cups White Onions, diced (about 1/4" pieces and 1 large onion should be enough)
2 1/2 - 3 cups Bell Peppers, diced (I did 1 Green and 1 Yellow Bell Pepper in 1/2" slices)
5 cloves Garlic, minced (I used 4 because my cloves were quite large)
1 Jalapeño, finely chopped (seeds and ribs removed)
3 T. Chili Powder
1 T. Cumin
2 T. Paprika
1 1/2 t. Sea Salt (I used Pink Himalayan Sea Salt)
28-oz can Crushed Tomatoes (unsalted)
15-oz can Diced Tomatoes (unsalted)
3 T. Sriracha (or start with 2 if you want it less spicy)
1/4 cup Coconut Sugar (or use light brown sugar or 3 T. honey or maple syrup)
2 T. Molasses
1/4 cup Tomato Paste
1/4 cup low-sodium Tamari
15-oz can Black Beans, drained and rinsed (low sodium)
15-oz can Kidney Beans, drained and rinsed (low sodium)
Chili Toppings (optional):
Sliced green onions
Cheddar cheese
Sour cream
Tortilla Chips
Avocados
Instructions
Begin by first prepping your veggies by chopping the onions, peppers, mincing the garlic, and then draining and rinsing your black beans and kidney beans. Then heat a large pot over medium-high heat and add the ground beef and turkey to it. Break up the meat into small pieces and then let it cook for 10-12 minutes or until the meat is cooked through and just starts to brown. I knew the meat was finished, because the liquid had been absorbed.

Then remove the finished meat from the pot with a slotted spoon. Reduce the heat to medium-low and then add the (vegan) butter to the pan. Once the butter is melted, then add the onions and peppers and cook for 6-8 minutes or until the veggies have softened.

 

Add the garlic to the pan and then reduce the heat to low and cook for about a minute or until you can smell the garlic. Then add the meat back to the pot along with the spices including the chili powder, cumin, paprika, and salt. Stir and cook for another minute or so.

 

Then add the remaining ingredients including the crushed tomatoes, diced tomatoes, Sriracha, molasses, coconut sugar, tomato paste, tamari, black beans, and kidney beans. Finally stir the chili together and then place a lid on it and allow it to simmer for 45-60 minutes.

 

Serve right away, top with your favorite toppings (like shredded cheese, green onions, sour cream, tortilla chips, avocado, etc.), and then enjoy!!
Notes
Quick Tip: I usually try to make a recipe mine, but this one was so incredibly good as it was. I did add an extra tablespoon of Sriracha and threw in a chopped jalapeño for some additional heat, and it was delicious!
Courses Dinner
Amount Per Serving

Calories 337

% Daily Value

Total Fat 9 g

14%

Saturated Fat 3 g

15%

Unsaturated Fat 2 g

Cholesterol 52 mg

17%

Sodium 1240 mg

52%

Total Carbohydrates 39 g

13%

Dietary Fiber 9 g

36%

Sugars 16 g

Protein 27 g

54%
Recipe by Can Cook, Will Travel at https://cancookwilltravel.com/ultimate-chili-recipe/