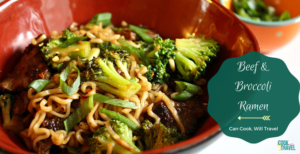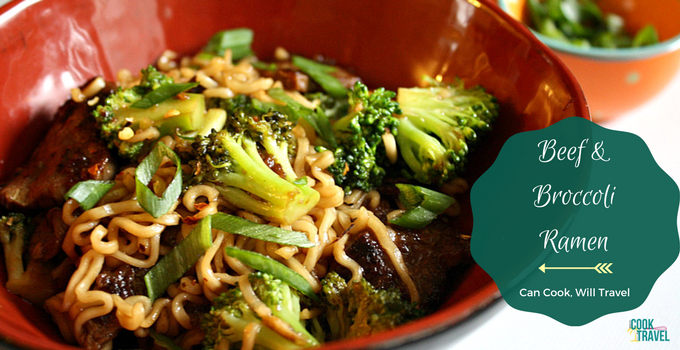 The Ultimate Broccoli Beef Ramen
Yield 4 servings
You'll probably be slightly obsessed by this dish, because I know I am. Jam packed with delicious Asian flavors make this one crazy good recipe!
Ingredients
Beef:
1/4 cup Peanut Oil
1 clove Garlic, minced
2 tablespoons Red Wine Vinegar
1/8 cup Honey
1/4 cup low-sodium Soy Sauce
2 t. Sesame Oil
1 tablespoon Italian flat leaf Parsley, roughly chopped
1/4 teaspoon Red Pepper Flakes
3/4 pound Flank Steak
3 tablespoons Cornstarch
2 tablespoons Peanut Oil
Stir Fry:
1/4 cup low-sodium Soy Sauce
2 t. Sesame Oil
2 cloves Garlic, minced
1 1/2 T. Brown Sugar
1 teaspoon grated fresh Ginger
1 cup Beef Broth
1/4 cup Hoisin Sauce
4 cups broccoli florets
2 packages (3 oz each) Ramen Noodles
Salt and Pepper, to taste
Optional Toppings: Green Onions, Red Pepper Flakes, Sesame Seeds
Instructions
Begin by thinly slicing the flank steak and then cut the slices into about 2-inch pieces. Then place the steak in a plastic ziplock bag.

 

Then mix up the marinade by whisking together 1/4 cup peanut oil, 1 clove minced garlic, 2 tablespoons of red wine vinegar, 1/8 cup of honey, 1/4 cup low-sodium soy sauce, 2 teaspoons of sesame oil, 1 tablespoon of roughly chopped parsley, and 1/4 teaspoon of red pepper flakes.

 

Add the marinade to the plastic bag and seal, then use your hands to mix the marinade with the steak. Place the bag in a dish and refrigerate for at least an hour and up to 12 hours, and toss the steak with the marinade about halfway through the time in the refrigerator.

 

When the steak is finished marinating, remove it from the bag and shake off the marinade. Then toss it with about 3 tablespoons of cornstarch, which will help thicken the sauce.

 

Before you cook the beef, bring a small saucepan of water to a boil and cook the 2 packages of ramen noodles (toss the seasoning packets in the trash) for 2 minutes. Drain, rinse in cold water, and then toss with a little sesame oil to keep the pasta from sticking and it infuses it with serious flavor!

 

Heat a pan over high heat and add a tablespoon of peanut oil to the pan. Once it's hot, add half of the beef to the pan and let it sit in an even layer, unstirred for about 90 seconds. Then carefully flip the beef and continue to cook the beef for another 30 seconds. Transfer the steak to a plate and add another tablespoon of peanut oil and repeat the steps with the remaining uncooked beef.

 

Using the same pan, add 1/4 cup soy sauce, 2 teaspoons sesame oil, 2 cloves minced garlic, 1 1/2 tablespoons of brown sugar, 1 teaspoon grated fresh ginger, 1 cup of bed broth, and 1/4 cup of hoisin sauce.

 

Bring the sauce to a boil, and let it reduce for for about 8 minutes. Then add the broccoli to the pan, turn the heat to medium-low and cover. Allow the broccoli to steam on top of the sauce for about 4 minutes or until it's to your desired doneness.

 

Finally add the ramen and steak to the pan and toss all of the ingredients together. Serve right away and top with green onions and red pepper flakes and enjoy!
Notes
Quick Tip #1: Marinate the beef up to 12 hours in advance, flipping once to save you time. 
Quick Tip #2: Buy broccoli florets pre cut and washed and then just trim the florets to bite-sized pieces for another time saver.
Courses Dinner
Cuisine Asian
Amount Per Serving

Calories 803

% Daily Value

Total Fat 37 g

57%

Saturated Fat 9 g

45%

Unsaturated Fat 18 g

Cholesterol 57 mg

19%

Sodium 1806 mg

75%

Total Carbohydrates 90 g

30%

Dietary Fiber 6 g

24%

Sugars 56 g

Protein 30 g

60%
Recipe by Can Cook, Will Travel at https://cancookwilltravel.com/ultimate-broccoli-beef-ramen/