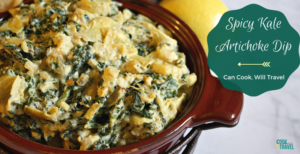 Spicy Kale Artichoke Vegan Dip
Yield 10 servings
You'll love this healthy dip that's gluten free with dairy free options, unless you want some cheese, an then you can add it!
Ingredients
1 cup Raw Cashews, soaked 2 hours in lukewarm water & drained3/4 cup Low-Sodium Chicken Broth1 T. Extra-Virgin Olive Oil1/2 cup Shallots, minced (about 1 large)4 Garlic Cloves, minced1 14-oz. can Artichoke Hearts, drained & roughly chopped2 1/2 t. Sea Salt1/2 t. Black Pepper1/4 t. Cayenne Pepper1/4 t. Red Pepper Flakes1 t. Onion Powder1/2 t. Garlic Powder1/4 cup Nutritional Yeast, plus more for topping (vegan option if baking dip)10-oz. bag Frozen Kale, thawed & chopped1 t. Jalapeno Tabasco sauce1 T. Lemon Juice1/3 cup Cheese of choice to sprinkle on top before baking (optional)
Instructions
Begin by prepping all of your food including soaking your cashews for 2 hours, thawing your frozen kale, draining and chopping your artichoke hearts, and then mincing your shallots and garlic.

 

Next in a high-speed blender, blend the cashews and chicken broth together until it's smooth, and it'll be fairly thin.

 

Now it's time to start cooking the dip, so heat a large, non-stick skillet over medium heat and add 1 T. extra-virgin olive oil to it. Once the oil is hot, add the shallots and stir for 2-4 minutes or until the shallots are tender and fragrant. Then add the minced garlic and stir for about a minute.

 

Add the chopped artichoke hearts, salt, black pepper, cayenne pepper, red pepper flakes, onion powder, garlic powder, and nutritional yeast to the pan and stir for about 1 minute so the flavors start to combine.

 

Pour the cashew sauce, kale, lemon juice, and jalapeño Tabasco sauce to the pan and stir to combine the dip. Once it's hot, which won't take long, then you're ready to serve right away with your favorite tortilla chips or veggies.
Notes
Laura Lea's Note: If you want to bake the dip, you can preheat the oven to 350 degrees, then sprinkle with extra nutritional yeast for a dairy free option, or add your favorite cheese to the top. Bake for about 15 minutes so the cheese melts and the ages are golden brown. The dip should last up to 4 days if well sealed in the refrigerator.
Courses Appetizer
Cuisine Healthy
Amount Per Serving

Calories 180

% Daily Value

Total Fat 6 g

9%

Saturated Fat 1 g

5%

Unsaturated Fat 5 g

Sodium 741 mg

31%

Total Carbohydrates 24 g

8%

Dietary Fiber 4 g

16%

Sugars 2 g

Protein 9 g

18%
Recipe by Can Cook, Will Travel at https://cancookwilltravel.com/spicy-kale-artichoke-vegan-dip/