In case you don't know this fun fact about me – I grew up on a hog farm in the middle of nowhere. I think if you put a gun to my friends' heads (growing up or now) then most of them couldn't tell you how to get to our home. And that's no joke! So growing up around hogs, then it's only natural that we happily eat pork A LOT. I mean bacon is our family's go-to emoji, and Smothered Pork Chops are kinda my ode to family this week.
It's insane how little I've cooked with pork over the years here on my blog. It's probably because I don't always crave meat (sorry Daddy), so when I do, I keep it pretty light and easy with chicken or shrimp. But after making these Smothered Pork Chops, I'm totally reminded how freaking simple and insanely good pork is to work with.
First off, I have a weird thing with raw chicken, and for some reason I don't feel that way about pork. Second, pork can be a little pink unlike chicken, where I get to overcooking it out of fear of getting sick.
So the moral of this story is that I really ought to cook with pork more. I mean it's pretty damn lean, and cutting out the fat after it cooks is super easy. Growing up, we'd have the adds for pork – do you remember those where they said: Pork. The other white meat.
As a kid I'd talk over the commercial and proclaim: Pork. The ONLY white meat! I mean hogs were how I had clothes on my back and a roof over my head, so I meant it! Although it's been about 10 years since my dad let the hogs go, and I'm not really missing that part of his farming career. Don't worry though, we still have the farm, and I love going there for a peaceful escape!
But back to these Smothered pork chops, because they're amazing! I wanted to cover mine with lots of healthy veggies plus some apples, since apples and pork work SO well together. I figured the more veggies I cooked, the less I'd want to eat it with rice or anything starch-y. This way I could keep it pretty healthy, so there'd be less guilt.
So chop up the veggies, and I used onions, fennel, Brussels sprouts, and carrots. I love the earthiness of all of these ingredients, plus the carrots and sprouts add some crunch and texture. And of course add the aforementioned apples, and I used pink lady apples. They're my favorite kind, but feel free to use whatever apples you love and have on hand.
Once you chop the veggies, this really comes together fast. Just season the pork chops well with salt and pepper, then brown them for 3-4 minutes per side in a hot pan with some butter. I used vegan butter, because I like it and wanted to keep it dairy free. But I'm also super intrigued by grass-fed butter, so I may end up switching to that variety in the very near future.
After the chops are browned, then transfer them to a plate, and add the veggies and apples to the pan. I stirred fairly frequently for about 7 minutes until the veggies are softened. Then add some spices (including cayenne, cinnamon, cardamom, and coconut sugar), followed by some apple cider and coconut milk. Nestle the pork chops back in and let them cook another 3 minutes on each side or until the internal temp is between 145 & 160 degrees.
Remember that you're okay if the pork has some pink, so I took mine out at about 150 or 155. And oh holy wow, these Smothered Pork Chops couldn't have been more juicy, tender, or flavorful! Why do I not cook them like this ALL the time?!
I was inspired by a recipe over at Gimme Some Oven, but put my own spin on it making it dairy free and adding more veggies. I also used coconut sugar instead of the refined sugar, because that helps make it a bit healthier. These Smothered Pork Chops are something I could absolutely see myself whipping up regularly, because they're ab. From the flavors to how crazy easy it is, there's so much to love.
This one pan dish saves the day during your busy week, so check out the Smothered Pork Chops recipe! Click that link, so you can see the step by step instructions. Happy eating!
A look back:
One year ago: Stir Fry Zucchini Noodles = Fun & Delicious Cooking!
Two years ago: Mexican Style Stuffed Shells are Mmm, Mmm, Good!
Three years ago: Cranberry Oatmeal Muffins – Making Breakfast Healthier One Muffin At a Time!
Four years ago: Crock-Pot Salsa Chicken Couldn't Be Easier!
Five years ago: Get Comfy with Baked Artichoke Chicken Pasta
Six years ago: Cinnamon-Raisin Bread … Nothing Can Compare to Homemade Bread!
Seven years ago: Ah, Wagamama: How I've Missed You (And Your Noodle-Ness!)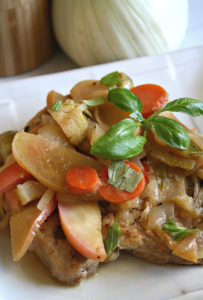 Print
Apple & Veggie Smothered Pork Chops
Yield 4 servings
These pork chops are tender, juicy, flavorful, and super easy to whip up anytime. Enjoy!
Ingredients
Pork Chop Ingredients
2-4 bone-in Pork Chops (3/4" thick)
2 T. Vegan Butter (or regular butter)
Salt & Pepper, to taste
1 Onion, thinly sliced
1 Fennel Bulb, thinly sliced
2 Carrots, thinly sliced
2 Pink Lady Apples, thinly sliced (or your favorite variety)
1 1/2 cups of Brussels Sprouts, cleaned and quartered
2 T. Coconut Sugar
1 t. Cinnamon
1 t. Cardamom
1/4 t. Cayenne Pepper
1 cup Apple Cider
1/2 cup reduced-fat Coconut Milk
Fresh basil or parsley for garnish
Instructions
Begin by chopping up all of your veggies and the apples, so that they're waiting on you. A tip with the apples is to toss them with a little lemon juice after they're sliced so they don't turn brown.

 

Then season one side of the pork chips with salt and pepper, while you heat a large non-stick pan over medium-high heat. Add 1 T. of vegan butter to the hot pan, and then place the chops in seasoned side down once the butter has melted.

 

Season the other side of the pork chops, and then cook them 3-5 minutes or until they're browned on each side. Transfer the browned chops to a plate.

 

Then add another tablespoon of vegan butter to the pan over medium-high heat. Add the onion, fennel, carrots, Brussels sprouts, and apples to the pan, and then toss every minute or so for 5-7 minutes or until the veggies are cooked through.

 

Now add the coconut sugar, cinnamon, cardamom, and cayenne to the pan and toss the veggies and apples with them so they're coated in the spices.

 

Then add the liquid including about a cup of cider and 1/2 cup of coconut milk or enough so the pork chops will have some liquid to submerge. Then place the chops back in the pan and let them cook in the liquid another 3-6 minutes or until the internal temperature is 145 degrees for some pink or 160 degrees to be fully cooked. Remember that pork is totally safe if it's a little pink, so I went for about 150 degrees. Serve the chops topped with the apples and veggies, and then enjoy right away!
Notes
Quick Note: It's up to you and how many people you're serving on the amount of pork to use. I had 2 large pork chops that I got 4 meals out of. But you could also get 4 smaller pork chops as well.
Courses Main Meal
Cuisine American
Nutrition Facts
Serving Size 1/2 large pork chop or 1 small pork chop
Amount Per Serving

Calories 273

% Daily Value

Total Fat 12 g

18%

Saturated Fat 6 g

30%

Unsaturated Fat 5 g

Cholesterol 20 mg

7%

Sodium 200 mg

8%

Total Carbohydrates 36 g

12%

Dietary Fiber 6 g

24%

Sugars 26 g

Protein 9 g

18%
* Percent Daily Values are based on a 2,000 calorie diet. Your daily values may be higher or lower depending on your calorie needs.
0