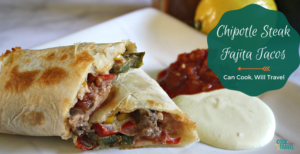 Smoky Chipotle Fajita Style Steak Tacos
Yield 6 Tacos
Taco night just got a whole lot more delicious with this easy and versatile steak recipe!
Ingredients
Steak Ingredients:
Flank Steak (3/4 to 1 lb.)
1 t. Olive Oil
1/4 t. Salt (I used pink himalayan sea salt)
1/4 t. Chipotle chili Powder
1/4 t. Smoked Paprika
1/4 t. ground pepper
Green Chile Aioli Ingredients:
2 Egg Yolks
2 cloves Garlic, minced
Juice of half a Lemon
1/4 t. Honey
1/2 t. Salt
2 T. Green Chiles
1/2 T. Jalapeno Tabasco
3/4 c. Peanut Oil
Taco Ingredients:
1 can Corn, drained and roasted (I used a cast iron skillet cooking it for 5-6 minutes using the method here.)
1 T. Olive Oil
1 Red Bell Pepper, sliced
1 Green Bell Pepper, sliced
Your favorite toppings: Avocado, Spanish rice, Salsa, Refried Beans, Cheese, etc.
Instructions
Green Chile Aioli: You can make a few things in advance such as Spanish rice, refried beans, and the green chile aioli. For the aioli, add all ingredients except the peanut oil to a blender, and blend for 5 seconds. Then stream in the peanut oil as you blend to help create a thick, smooth aioli. If you make this in advance, refrigerate until ready.

 

Roasted Corn: Drain a can of corn. Then add the corn in a single layer to a cast iron skillet over medium-high heat. Let the corn cook untouched for 3-5 minutes or until it has browned. Then stir for another 1-2 minutes. Remove the corn from the heat. I like to make the corn first, transfer it to a bowl, and then pop it in the microwave and leave it there until I'm ready for it.

 

Steak: Combine the olive oil, salt, pepper, chipotle chili powder, and smoked paprika in a small bowl and whisk well. Then use your hands to rub on both sides of your flank steak. Heat a nonstick pan over medium-high heat and cook it for 2-3 minutes until it has browned, then flip and cook another 2 minutes. For medium rare meat, use a meat thermometer to ensure the meat is at 140 degrees, then transfer it to a cutting board and let it rest for 10 minutes. Thinly slice the steak and then cut into bite-sized pieces.

 

Fajita Style Peppers: Wipe out the pan you used for the steak, and then add 1 tablespoon of olive oil to the pan and heat over medium heat. Once the oil is hot, add the pepper in a single layer, and allow them to cook untouched for 3 minutes. Then stir and continue cooking another 2-3 minutes or until your peppers have great color on them.

 

All of your components are now ready, so the adventure begins. Create your favorite taco or wrap with all of the ingredients. If you use a wrap, I definitely like to add a little rice and salsa to add body, and refried beans are also a great addition. Enjoy!
Notes
Quick Note: This recipe is all to get you started to creating the ultimate steak tacos. So add in your favorite toppings, and make this recipe your own!
Courses Main Meal
Cuisine Mexican
Amount Per Serving

Calories 487

% Daily Value

Total Fat 28 g

43%

Saturated Fat 8 g

40%

Unsaturated Fat 16 g

Cholesterol 81 mg

27%

Sodium 807 mg

34%

Total Carbohydrates 42 g

14%

Dietary Fiber 5 g

20%

Sugars 5 g

Protein 20 g

40%
Recipe by Can Cook, Will Travel at https://cancookwilltravel.com/smoky-chipotle-fajita-style-steak-tacos/