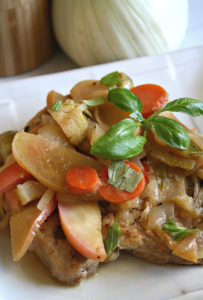 Apple & Veggie Smothered Pork Chops
Yield 4 servings
These pork chops are tender, juicy, flavorful, and super easy to whip up anytime. Enjoy!
Ingredients
Pork Chop Ingredients
2-4 bone-in Pork Chops (3/4" thick)
2 T. Vegan Butter (or regular butter)
Salt & Pepper, to taste
1 Onion, thinly sliced
1 Fennel Bulb, thinly sliced
2 Carrots, thinly sliced
2 Pink Lady Apples, thinly sliced (or your favorite variety)
1 1/2 cups of Brussels Sprouts, cleaned and quartered
2 T. Coconut Sugar
1 t. Cinnamon
1 t. Cardamom
1/4 t. Cayenne Pepper
1 cup Apple Cider
1/2 cup reduced-fat Coconut Milk
Fresh basil or parsley for garnish
Instructions
Begin by chopping up all of your veggies and the apples, so that they're waiting on you. A tip with the apples is to toss them with a little lemon juice after they're sliced so they don't turn brown.

 

Then season one side of the pork chips with salt and pepper, while you heat a large non-stick pan over medium-high heat. Add 1 T. of vegan butter to the hot pan, and then place the chops in seasoned side down once the butter has melted.

 

Season the other side of the pork chops, and then cook them 3-5 minutes or until they're browned on each side. Transfer the browned chops to a plate.

 

Then add another tablespoon of vegan butter to the pan over medium-high heat. Add the onion, fennel, carrots, Brussels sprouts, and apples to the pan, and then toss every minute or so for 5-7 minutes or until the veggies are cooked through.

 

Now add the coconut sugar, cinnamon, cardamom, and cayenne to the pan and toss the veggies and apples with them so they're coated in the spices.

 

Then add the liquid including about a cup of cider and 1/2 cup of coconut milk or enough so the pork chops will have some liquid to submerge. Then place the chops back in the pan and let them cook in the liquid another 3-6 minutes or until the internal temperature is 145 degrees for some pink or 160 degrees to be fully cooked. Remember that pork is totally safe if it's a little pink, so I went for about 150 degrees. Serve the chops topped with the apples and veggies, and then enjoy right away!
Notes
Quick Note: It's up to you and how many people you're serving on the amount of pork to use. I had 2 large pork chops that I got 4 meals out of. But you could also get 4 smaller pork chops as well.
Courses Main Meal
Cuisine American
Amount Per Serving

Calories 273

% Daily Value

Total Fat 12 g

18%

Saturated Fat 6 g

30%

Unsaturated Fat 5 g

Cholesterol 20 mg

7%

Sodium 200 mg

8%

Total Carbohydrates 36 g

12%

Dietary Fiber 6 g

24%

Sugars 26 g

Protein 9 g

18%
Recipe by Can Cook, Will Travel at https://cancookwilltravel.com/simple-apple-veggie-pork-chops/