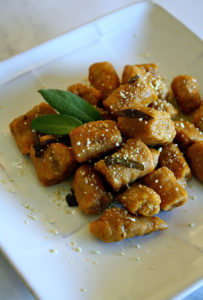 Pumpkin Gnocchi with Sage Browned Butter
Yield 4 servings
This simple dish is a perfect way to enjoy the flavors of Fall!
Ingredients
Gnocchi Ingredients:
8 oz. baked Sweet Potatoes (approximately - I used 2 small potatoes)
1 Egg
1 cup Pumpkin Purée
1 cup Sprouted Whole Wheat Flour (or flour of choice like AP flour)
1/2 t. Pumpkin Pie Spice
3/4 t. Salt
1/2 t. Pepper
Browned Butter Sauce:
4 T. Butter of Choice (I went with Earth Balance to keep it dairy free)
8-16 Sage Leaves, washed, dried, and torn or sliced
Toppings:
Vegan Parm (or regular Parmesan cheese)
Fresh Sage (optional)
Instructions
Prep Work: Begin by baking your potatoes in the microwave, then let them cool enough that you can handle them. While the potatoes bake, measure out your pumpkin, wash and dry your fresh sage, and bring a pot of water to a boil.

Gnocchi: Scoop out the potatoes from the skin and put them in a ricer and rice the sweet potatoes into a bowl. Then add the egg and pumpkin and stir well. Finally add about a cup of flour plus the pumpkin pie spice and salt and pepper to the mixture and combine. If you need to add more flour if it's too wet, or add some water if it's too dry, you can do that.

Forming the Gnocchi: Flour a cutting board lightly and knead the gnocchi on the board until it's well combined. Then cut the dough into 8 equal pieces. Flour the surface and roll each piece into a 1/2-3/4" log and cut the log into about 1-inch pieces. Then you can roll the gnocchi on the back of a fork for a traditional gnocchi look with the ridges. Repeat with all 8 pieces.

Cooking the Gnocchi: In batches (I did one log at a time), transfer the gnocchi with a spider to the boiling water and cook for 3 1/2 to 4 minutes. Then use the spider to transfer the gnocchi to a drainer. Repeat with however much of the gnocchi you'd like to make at that time. You can always roll out the gnocchi and then refrigerate for up to 3 days.

Browned Butter Sauce: Heat a pan over medium-high heat and melt the butter. Then add the fresh sage to the butter as it starts to brown. Once the butter is brown, remove it from the heat and add the cooked gnocchi to it, toss and serve right away. Top with Vegan or regular Parm and fresh sage if you desire. Enjoy!
Courses Side Dish
Cuisine Italian
Amount Per Serving

Calories 294

% Daily Value

Total Fat 13 g

20%

Saturated Fat 4 g

20%

Unsaturated Fat 7 g

Cholesterol 47 mg

16%

Sodium 610 mg

25%

Total Carbohydrates 38 g

13%

Dietary Fiber 6 g

24%

Sugars 6 g

Protein 7 g

14%
Recipe by Can Cook, Will Travel at https://cancookwilltravel.com/pumpkin-gnocchi-browned-sage-butter/