Statement necklaces are so cool, and I personally love wearing them. But I've noticed some women are nervous that they might be impractical or like something you can't wear very often. Since I work from home, on a daily basis I tend to wear pretty simple pieces. But it's still important to have a few great statement necklaces in your jewelry collection for different moments in life.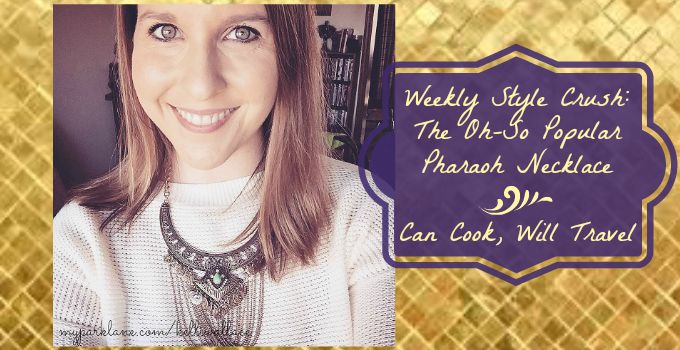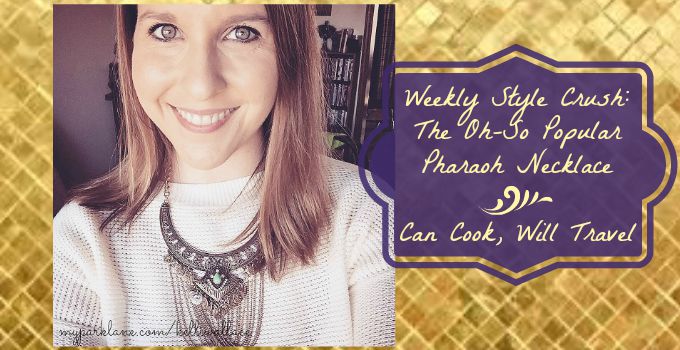 But that's where this Pharaoh Necklace comes in. Just about any time I show the Park Lane jewelry to a group of women, the majority are instantly drawn to this piece. And most of them add it to their order right away. In fact, I recently sent out invites to a jewelry showing, and the postcard featured the Pharaoh necklace. Several women brought up how much they loved the necklace when they were RSVP'ing. The ooh's and aah's continued when the ladies checked out the piece in person.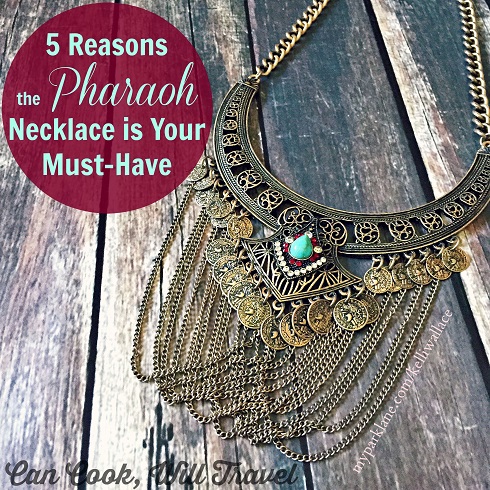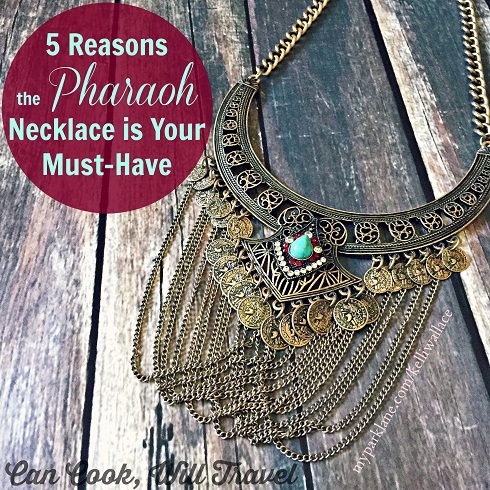 There are at least 5 characteristics of the Pharaoh necklace that make it a fabulous choice to have in your jewelry collection. Let's dive in:
The antique gold metal on this piece is easy to dress up or down. Plus mixing it with lighter gold pieces is completely okay. Mix those golds, ladies!
The various textures on this piece are very cool and certainly start a conversation. The draped chains, structured collar with cutouts, and small coins give this piece movement and interest.
There's a little color mixed into this necklace too to brighten up the necklace. The turquoise stone is surrounded by subtle garnet crystals that totally draw you in!
I'm loving this necklace with a boat neck or collared shirt. The boat neck really allows the necklace to be the star, and a collared shirt unbuttoned a bit allows Pharaoh to be a little more hidden but still visible!
The vibe of Pharaoh is kinda like Southwest meets Egypt. The turquoise gives a Southwest feel and the collar, chains, and coins give a nod to a Pharaoh's collar. It's so unique and I just love it!
All of the above really makes this an eye catching piece that will gain you a lot of compliments. Plus this piece is one you can wear out on the town or having a low key night out. No matter the setting, this necklace will shine.
Even choose to layer this with the Amped Up necklace for fun look.
Curious how to make this necklace your own? I don't blame you…I love mine! This gorgeous piece is only $53 and comes with an unconditional guarantee…say what?!! But what if you could get it for free?
Check out this collection that gets you the Pharaoh necklace free and includes 3 other pieces (the Midas Touch bracelet, Dimension ring, and the set of 3 Glee post earrings) that compliment it oh-so-well for only $88 (plus tax and shipping)! I was so inspired by this necklace, I couldn't wait to create this bundle just for you!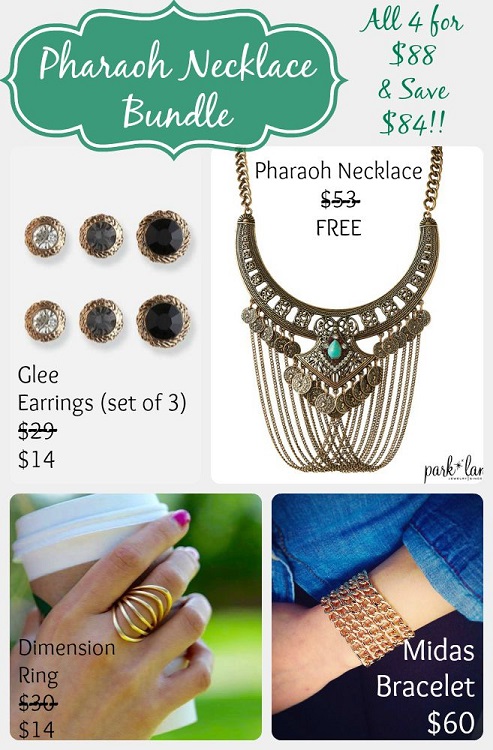 Stay inspired, make a statement & walk like  an Egyptian, my friends!
~Kelli
0