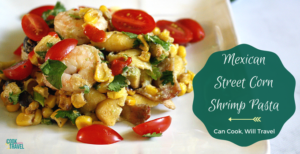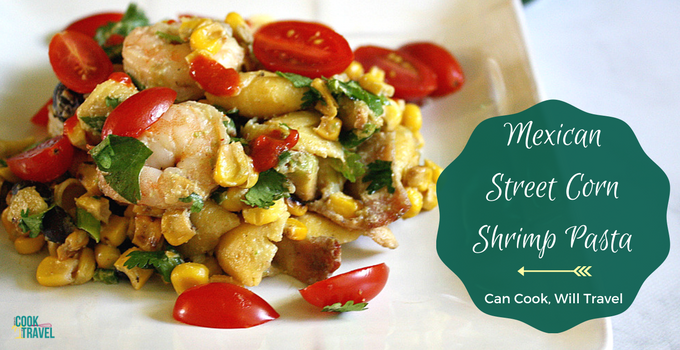 Mexican Street Corn Pasta Salad
Yield 6 servings
When you want a dish filled with flavor, and it's also gluten and dairy free (not that you'd notice), this is the perfect meal!
Ingredients
Salad Ingredients:
Box of Gluten Free Pasta (I used the Ancient Harvest shells)
1/2 cup Black Beans, drained and rinsed
2 cans of Whole Kernel Corn, drained and rinsed
1 pound Large, Raw Shrimp (thawed)
Fresh Cilantro, about half a bunch or a cup
1 Avocado
1 Jalapeno
3 Green Onions
5-6 slices of Bacon
Crushed Red Pepper Flakes
Salt & Pepper
Fresh Grape Tomatoes, sliced lengthwise (optional for serving)
Sriracha (optional for serving)
Spicy Mexican Sauce Ingredients:
1 1/2 cups Raw, Unsalted Cashews
1 cup Coconut Water
Juice of half a lime
1 T. Lime Zest
1 Garlic Clove
1/2 t. Cumin
1 1/2 t. Smoked Paprika
1 t. Cayenne Pepper
1-2 T. Sriracha
1 T. Jalapeno Tabasco
Salt & Pepper to taste
Instructions
Sauce: You can make the sauce in advance. Simply blend together the coconut water, cashews, lime juice and garlic in a high speed blender until it's creamy and thick. If you don't have a really good blender, then soak the cashews in water for about 20 minutes and drain and then blend them so they are more tender. Then transfer the sauce to a mixing bowl and add the seasonings including cumin, smoked paprika, cayenne pepper, sriracha, jalapeño Tabasco sauce, and salt and pepper. Taste the sauce as you mix in the ingredients and add more heat if you'd like. Store in the fridge if you make it in advance.
Bacon: Cook the bacon using your preferred method, cool and then chop into bite-sized pieces. You can cook the bacon ahead of time if you want to save time.
Corn: You can also make the roasted corn in advance, so to make this easy for any time of year, I used canned corn. So if you use this method, simply drain and rinse the corn. Then heat a cast iron skillet over medium high heat and add the corn cooking for 5 minutes stirring once halfway through to ensure the corn gets nicely roasted. You can also grill fresh corn if you'd prefer.
Pasta: Cook your pasta according to package instructions, then drain and rinse with cold water. You'll want the pasta fairly dry so that it will allow the sauce to coat it later.
Shrimp: I use frozen shrimp, so I'll thaw it using the package instructions (usually in a bowl of cold water). Then drain and pat the shrimp dry. Season with salt and pepper along with some red pepper flakes. Then heat a nonstick skillet over medium heat adding about a tablespoon of grapeseed oil to the pan. Once the oil is hot, cook the shrimp about 2 minutes per side or until it's pink and cooked through. You may need to do this in batches if your pan isn't very large. Then set the shrimp aside until you're ready for it.
Finally in a large bowl add the pasta, 1/2 cup of black beans, shrimp, bacon, green onions, jalapeño, avocado, cilantro, and about 1/2 cup of the spicy Mexican sauce. Stir until all of the food is coated, and then add more sauce as desired. Serve right away and top with fresh sliced grape tomatoes and a drizzle of Sriracha for more heat. Enjoy!
Notes
Quick Tip #1: Definitely look at making the sauce, bacon, and corn in advance to save you time (and dishes).
Quick Tip #2: I wouldn't skip the tomatoes at the end as they add a nice freshness to the dish. Yum!
Courses Dinner
Cuisine Mexican
Amount Per Serving

Calories 421

% Daily Value

Total Fat 15 g

23%

Saturated Fat 3 g

15%

Unsaturated Fat 10 g

Cholesterol 101 mg

34%

Sodium 689 mg

29%

Total Carbohydrates 53 g

18%

Dietary Fiber 8 g

32%

Sugars 6 g

Protein 23 g

46%
Recipe by Can Cook, Will Travel at https://cancookwilltravel.com/mexican-street-corn-pasta-salad-gluten-dairy-free/