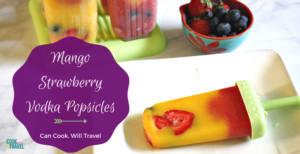 Boozy Strawberry Mango Popsicles
Yield 6 Popsicles
I love this sweet treat that is a fusion of a cocktail and a popsicle. It's the perfect adult treat when you want something fruity with a kick!
Ingredients
Popsicle Ingredients:
1/2 cup of Frozen Strawberries
1/2 cup of Frozen Mango
1 cup of Coconut Water, divided
Juice from Half a Lime, divided
2-4 Shots of Vodka (whatever you prefer)
Fresh fruit to add to the popsicles such as blueberries, strawberries, raspberries, etc.
Instructions
In a blender, combine 1/2 cup of coconut water, the juice of 1/4 of a lime, and 1/2 cup of frozen mango. Add more mango if the mixture is too runny. You'll want it to be fairly thick but still pourable. Then transfer the mango puree to a liquid measuring cup so it's easy to pour.

 

Rinse out the blender and then repeat this process with the strawberries. So combine 1/2 cup of coconut water, the juice of 1/4 of a lime, and about 1/2 cup of frozen strawberries until the mixture is thick but pourable.

 

Add 1-2 shots of vodka to each puree and stir to combine.

 

Make sure your popsicles are secure in their holder and add a few pieces of fresh fruit to each one.

 

For a layered look, fill 3 molds half full with mango puree and the other 3 half full of strawberry puree. Then add the opposite puree to the molds to fill them to the top.

 

Put the tops of the molds on securely and then wipe with a damp paper towel to clean off any excess fruit that runs over.

 

Freeze the popsicles for at least 6 hours, but I prefer overnight, so that they are frozen solid. When you're ready to enjoy, simply run warm water over the outside of the mold until the popsicle releases. Then enjoy!!
Notes
Quick Tip: For the best result, you'll need the following kitchen tools: A blender, Popsicle Molds, and a Funnel.
Courses Dessert
Amount Per Serving

Calories 69

% Daily Value

Sodium 10 mg

0%

Total Carbohydrates 5 g

2%

Dietary Fiber 1 g

4%

Sugars 4 g
Recipe by Can Cook, Will Travel at https://cancookwilltravel.com/mango-strawberry-vodka-popsicles/