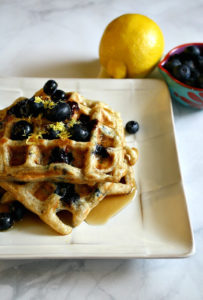 Lemon Blueberry Dairy Free Belgian Waffles
Yield 5 people
These waffles are light and fluffy with a lovely lemon flavor and fresh blueberries throughout. So crazy good!
Ingredients
Waffles Ingredients:
1 3/4 c. AP (all purpose) Flour
1/4 cup Corn Starch
2 tbsp. Sugar
1 tbsp. Baking Powder
1/4 tsp. Salt
1/4 teaspoon Ground Ginger
1/2 tsp Cinnamon
2 Eggs (or Egg Substitute)
Juice of 1/2 Lemon
1 3/4 c. Almond Milk
1/2 c. Coconut Oil (or Canola Oil)
1 tbsp Vanilla Bean Paste
Zest of 1 Lemon
1 cup Blueberries (fresh or frozen)
For Topping:
Pure Maple Syrup
Fresh Blueberries
Lemon Zest
Instructions
Begin by preheating your waffle iron, and be sure you have checked your instructions to know how much batter you'll need for your waffles as each iron is different.
In a large bowl, combine the AP flour, corn starch, sugar, baking powder, salt, cinnamon, and ginger until it's well combined.
Then zest 1 lemon, and set the zest to the side. And add the juice of half a lemon to a 2 cup measuring cup. Pour in enough almond milk to then get the milk and lemon juice combo to be 1 3/4 cup.
Then add the lemon juice and milk to the dry ingredients along with 2 eggs, 1/2 cup of coconut oil (melted), and a tablespoon of vanilla bean paste. Stir with a wooden spoon until the batter is well combined.
Fold in the blueberries and lemon zest to the batter, and then once your waffle iron is hot, spray it with cooking spray. Then measure out your batter for each waffle section on the iron (as your instructions state). So in my case I used 1/3 cup of batter and cooked my waffles for about 3 1/2 minutes.
Carefully remove the waffles from the iron once cooked, and I find using a wooden tool is best so it doesn't scratch your iron. I like to use chopsticks to gently ease the waffles out of the iron, and that works perfectly! Enjoy the waffles while they're still warm and top with maple syrup, fresh blueberries and lemon zest and enjoy!
Notes
My waffle maker let me get about 11 waffles out of this recipe, but your total number of waffles will vary based on the size of your waffle iron.
Courses Breakfast
Cuisine American
Amount Per Serving

Calories 362

% Daily Value

Total Fat 25 g

38%

Cholesterol 74 mg

25%

Sodium 238 mg

10%

Total Carbohydrates 52 g

17%

Dietary Fiber 4 g

16%

Sugars 10 g

Protein 7 g

14%
Recipe by Can Cook, Will Travel at https://cancookwilltravel.com/lemon-blueberry-dairy-free-belgian-waffles/