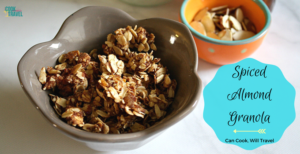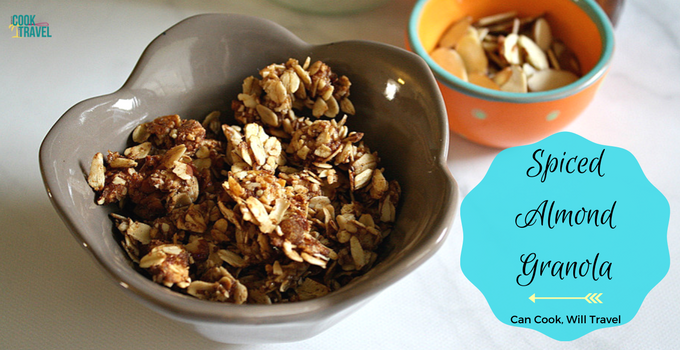 Homemade Coconut Almond Spice Granola
Yield 3 cups
Enjoy this simple granola recipe that is perfect to have on hand for a healthy snack anytime.
Ingredients
Granola Ingredients:
3 cups Old-Fashioned Oats
1 cup Sliced Almonds
1/4 cup Brown Sugar
1/8 cup Honey
1 T. Cinnamon
1 t. Cardamom
1 t. Allspice
1 t. Kosher Salt
3 T. Coconut Oil, melted
1 t. Vanilla Bean Paste
1/8 t. Almond Extract
Instructions
Preheat your oven to 350 degrees. Start by prepping your almonds. First finely chop 1/2 cup of almonds in a high speed blender, and then empty the blender and roughly chop another 1/2 cup of almonds.

 

Add the 2 batches of almonds to 3 cups of old-fashioned oats in a large bowl. To the oats add 1/8 cup of brown sugar, 1/8 cup of honey, along with 1 tablespoon of Cinnamon and 1 teaspoon each of cardamom, allspice, and salt. Stir to combine.

 

In a small bowl add 3 tablespoons of coconut oil and microwave until the oil has melted. Then add 1 teaspoon of vanilla bean paste and 1/8 teaspoon of almond flavor and whisk to combine.

 

Add the oil to the bowl of oats, and stir so it's fully combined. Then line 1 or 2 baking sheets with Silpats (I like to use 2 so the granola gets nice and crispy), and spread the granola on each cookie sheet in an even layer.

 

Bake in the oven for 7 minutes, and then stir to toss the granola. Return it to the oven and bake another 7 minutes. Then let the granola sit for 5 minutes.

 

While the granola bakes, line your counter with some waxed paper, and then turn out the granola onto the waxed paper in a single layer and let it cool completely, and then enjoy!
Courses Snack
Amount Per Serving

Calories 208

% Daily Value

Total Fat 10 g

15%

Saturated Fat 3 g

15%

Unsaturated Fat 2 g

Sodium 96 mg

4%

Total Carbohydrates 30 g

10%

Dietary Fiber 6 g

24%

Sugars 8 g

Protein 5 g

10%
Recipe by Can Cook, Will Travel at https://cancookwilltravel.com/homemade-coconut-almond-spice-granola/