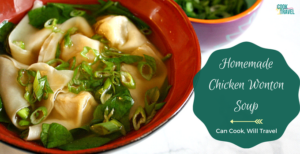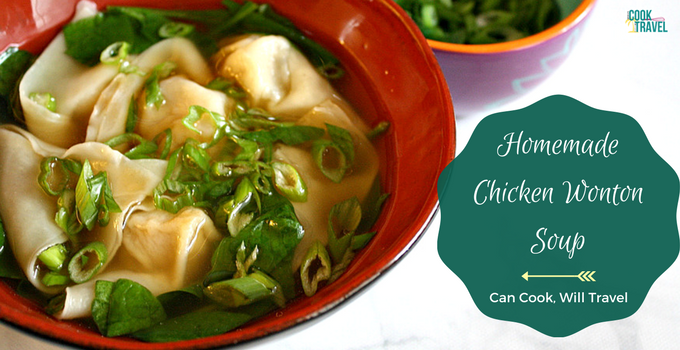 Homemade Chicken Wonton Soup
Yield 8 servings
This recipe is not only fun because you make your own chicken wontons, but you can freeze them and make this recipe anytime you are feeling under the weather. Yum!
Ingredients
For Chicken Wontons:
3/4 to 1 pound Ground Chicken
1 teaspoon Reduced Sodium Soy Sauce
3/4 teaspoon Kosher Salt
1 1/2 teaspoons Toasted Sesame Oil
1 1/2 teaspoons Fresh Ginger, grated
3 tablespoons Chives or Scallions, minced
Ground White Pepper, to taste
50 square Wonton Wrappers (about 12 oz.), thawed if frozen, thinnest ones you can find
Cornstarch, to prevent sticking
For Broth:
8 cups prepared Chicken Stock or Broth, storebought or homemade (I prefer Kitchen Basics for a dairy free option)
A 3-inch piece of Ginger, peeled and sliced
2 large Garlic Cloves, crushed
1 bundle Scallions
Soy Sauce (Reduced Sodium) or Salt, to taste
For Serving:
3 ounces Baby Spinach Leaves (a few handfuls)
Toasted Sesame Oil, to taste
Soy Sauce, to taste
Instructions
To begin the wonton filling, prep all of your veggies by grating your ginger, mincing your chive or scallions. Then combine the ground chicken with the soy sauce, salt, toasted sesame oil, grated ginger, chives or scallions, and white pepper.

 

Next we'll make the homemade stock, so prepare your veggies by peeling and slicing your ginger. Remove the skin from 2 garlic cloves and give them a press on the cloves to crush them a bit. Finally wash your scallions and remove the outer leaves if necessary, and then thinly slice the darker green parts of the scallions for finishing the soup and then chop the light green and white sections into 1/2" to 1" pieces to flavor the stock.

 

Now as you make your wontons, you can go ahead and simmer your stock. In a large saucepan, add in the broth along with the sliced ginger, crushed garlic, and the light green and white pieces of scallions and heat over medium heat. Then allow to simmer while you form your wontons. After at least 20 minutes, you can strain out your ginger, garlic, and scallions and the stock is done.

 

To form the wontons, lay out some wonton wrappers on a cutting board and put about a teaspoon of filling in the center of each wonton wrapper. Then fill a small bowl with water and use your finger to spread the water along the edges of the wonton wrapper. Fold one edge to another and press around the filling to remove air bubbles and press along the sides to form a triangle. Finally add a little water to the tip of the edges that are at the bottom of the triangle and fold your edges down and press together so that they meet under (not over) the filling. Repeat until all of the filling or wonton wrappers are used up (whichever occurs first).

 

When you're ready to make the soup, bring a small saucepan with water to a boil. Then cook the wontons for about 3 minutes.

 

Right before you're ready to serve, stir in the spinach leaves to the broth for about a minute. Then add in the cooked wontons for about 30 seconds or until they've heated through.

 

To serve the soup, add in about 2 tablespoons of the sliced scallions to each bowl along with a drizzle of toasted sesame oil and soy sauce for added flavor. And enjoy!
Notes
Quick Tip: To form the wontons, you can either make them in advance and refrigerate or freeze them, or make them the same day. 
Courses Lunch
Cuisine Asian
Amount Per Serving

Calories 192

% Daily Value

Total Fat 6 g

9%

Saturated Fat 1 g

5%

Unsaturated Fat 1 g

Cholesterol 36 mg

12%

Sodium 500 mg

21%

Total Carbohydrates 20 g

7%

Dietary Fiber 1 g

4%

Sugars 1 g

Protein 15 g

30%
Recipe by Can Cook, Will Travel at https://cancookwilltravel.com/homemade-chicken-wonton-soup/