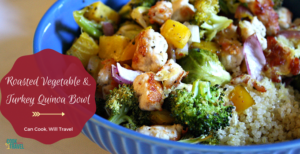 Healthy Turkey Roasted Veggie Quinoa Bowl
Yield 2 servings
I love how great I feel when I make this recipe. It's packed with majorly healthy ingredients and is one of my favorite go-to weeknight meals right now.
Ingredients
Quinoa Bowl Ingredients
8 Brussels Sprouts, cleaned, trimmed and sliced lengthwise
2 servings (about 6 ounces) of Broccoli, trimmed into bite-sized pieces
1 Beet, I like the golden beet
Half a Red Onion, sliced into large pieces
2 Garlic Cloves, sliced
3 tablespoons Extra-Virgin Olive Oil, divided
1/2 teaspoon of dried Basil Leaves
1 teaspoon of Mrs. Dash salt-free seasoning
Salt & Pepper to taste
8 ounces Lean Ground Turkey
1 cup of Quinoa
1-2 tablespoons of Lemon Zest Vinaigrette
Finishing Salt, optional (basically a high quality sea salt here)
Instructions
Preheat your oven to 350 degrees, and then finish prepping all of your veggies. Place all of the veggies (sprouts, broccoli, onion, beets, and garlic) into a large bowl and drizzle 2 tablespoons of EVOO over the top. Add the basil, Mrs. Dash seasonings, salt and pepper to the veggies, and then stir to combine really well.

 

Lay a Silpat on a rimmed baking sheet and then pour the seasoned veggies into a single layer on the tray. Bake for 20-25 minutes or until the veggies are starting to caramelize and are tender but not mushy.

 

When the vegetables have about 5-10 minutes left, heat a nonstick skillet over medium heat and add a tablespoon of olive oil to it. Then add 8 ounces of lean ground turkey plus salt and pepper for seasoning to it. Break up the turkey into bite-sized pieces, stir and let it cook stirring every 2 minutes or until the turkey has started to brown.

 

Once the veggies are done, remove them from the oven and divide them into 2 portions. Split the turkey between the 2 portions.

 

In your individual bowls, add 1/2 cup of quinoa and then 1 portion of the veggies and turkey. Top with 1-2 tablespoons of the lemon zest vinaigrette and a sprinkling of finishing salt and serve right away. Enjoy!
Notes
Quick Tip: Change this up by adding your favorite proteins - chicken or fish would be great. And also play around with veggies and textures to create your favorite bowl.
Courses Dinner
Cuisine Healthy
Amount Per Serving

Calories 511

% Daily Value

Total Fat 25 g

38%

Saturated Fat 4 g

20%

Unsaturated Fat 17 g

Cholesterol 55 mg

18%

Sodium 158 mg

7%

Total Carbohydrates 41 g

14%

Dietary Fiber 9 g

36%

Sugars 8 g

Protein 36 g

72%
Recipe by Can Cook, Will Travel at https://cancookwilltravel.com/healthy-turkey-roasted-veggie-quinoa-bowl/