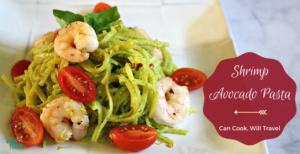 Healthy Avocado Linguine
Yield 4 servings
I adore this healthy pasta dish, and it's a great way to get some gluten free pasta in and still get that comfort food kinda fix!
Ingredients
Pasta Ingredients:
8 oz Ancient Harvest Linguine (gluten free)
2 oz Shrimp, raw, thawed, and patted dry
2 T. Extra-Virgin Olive Oil
1 Garlic clove
Juice of half a Lemon
Zest of a Lemon
1 T. Tahini
1 Avocado, pitted
1/4 cup Basil Leaves
1 t. Salt
Pepper, to taste
Crushed Red Pepper Flakes, to taste
16 Grape Tomatoes, sliced in half lengthwise (approximately)
Instructions
Begin by cooking your linguine according to package instructions. Once cooked, drain and return to the warm pot to help the noodles stay warm.

 

While the pasta cooks, heat a nonstick skillet over medium heat and add about a tablespoon of your favorite cooking oil (I love grapeseed oil). Pat the shrimp dry with a paper towel and season the shrimp with salt and pepper. Then place the shrimp in the hot skillet and cook for 1-2 minutes on each side until they're a nice pink and just starting to brown a little. Transfer the cooked shrimp to a plate until you're ready for it.

 

In a food processor or blender, combine 2 tablespoons of EVOO, 1 garlic clove, juice of half a lemon, and 1 tablespoon of tahini. Then add the pitted avocado, basil leaves, and a nice pinch of salt (about a teaspoon). Blend until the sauce is completely smooth, and then spoon it over the linguine.

 

Toss the linguine with the avocado sauce until it's completely coated. Then serve right away with the cooked shrimp, sliced tomatoes, pinch of lemon zest, and a sprinkle of red pepper flakes. Enjoy!
Courses Dinner
Cuisine Healthy
Amount Per Serving

Calories 354

% Daily Value

Total Fat 15 g

23%

Saturated Fat 2 g

10%

Unsaturated Fat 11 g

Cholesterol 22 mg

7%

Sodium 638 mg

27%

Total Carbohydrates 51 g

17%

Dietary Fiber 7 g

28%

Sugars 2 g

Protein 9 g

18%
Recipe by Can Cook, Will Travel at https://cancookwilltravel.com/healthy-avocado-linguine-shrimp/