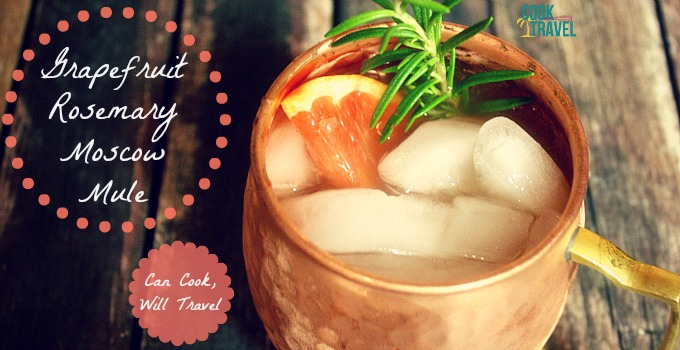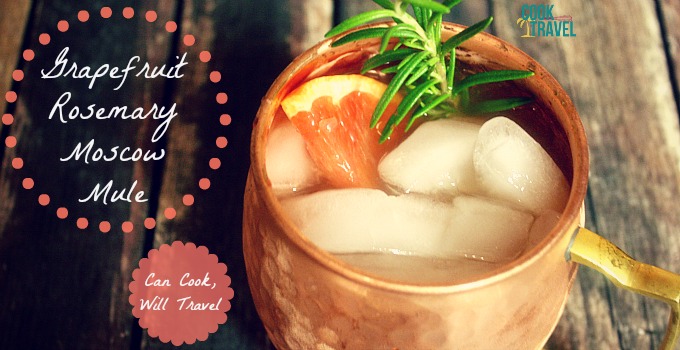 (Grapefruit Rosemary Mule recipe can be found on the site Domesticate Me here.)
Step by Step Instructions:

For this delightful Grapefruit Rosemary Mule, you'll need the following: Vodka, Ginger Beer, Lime, Grapefruit, and a sprig of fresh Rosemary.

I know a recipe is off to a great start when it involves fresh lime and grapefruit. Go ahead and slice the lime and grapefruit in half with a sharp knife.

Squeeze one grapefruit half. I like to use a fine mesh strainer to let the juice go through to catch any seeds or pulp.

Fill up a glass with ice. Aren't these copper mugs absolutely stunning?!

Measure out the grapefruit juice. You'll want 2 ounces. I couldn't count that day, so I measured 1 ounce . . .  and another ounce of grapefruit juice. And add the juice to the glass. It should be the juice of about half of a grapefruit.

Then measure out 2 ounces of vodka. Add it to the glass.

Then measure out 1 tablespoon of lime juice, which should be about a tablespoon, and add it to the glass.

Then you need 3 ounces of ginger beer. Here's 2 ounces …

… then the final ounce, all which gets added to the glass.

Then stir all of the liquid together in the glass. Finish off by adding a slice of grapefruit and a sprig of fresh rosemary and enjoy right away. This was seriously so good with light and bright flavors from the citrus and the smell of rosemary with each sip. Completely enjoyable! Happy Moscow Mule-ing!!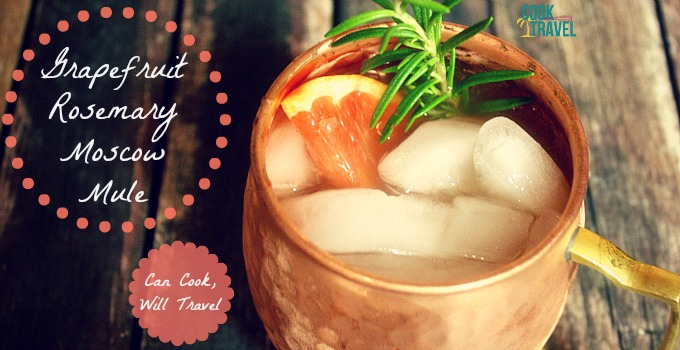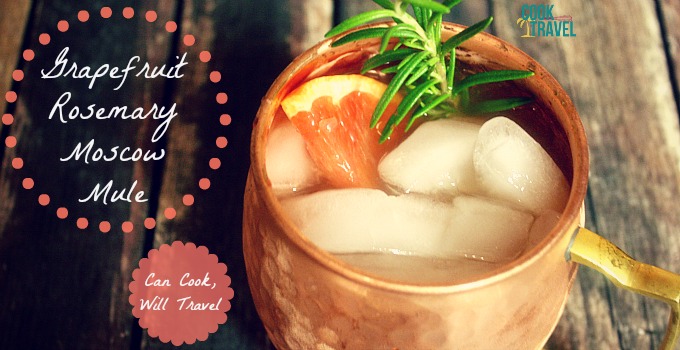 Grapefruit Rosemary Mule
I think I've just found my new favorite drink! This cocktail is one that you'll absolutely love!
Ingredients
2 ounces Vodka
2 ounces freshly squeezed pink Grapefruit Juice (About half of a grapefruit.)
½ ounce (1 tablespoon) fresh Lime Juice
3 ounces chilled Ginger Beer (Barritts or Reed's are great brands)
1 sprig fresh Rosemary
Preparation Instructions
Fill up a glass with ice.
Add vodka, grapefruit juice, lime juice, and ginger beer to the glass and stir.
Finish off the drink with some grapefruit slices and a sprig of fresh rosemary. Serve right away and enjoy!
0