There are a few foods that hold a special place in my heart. If you have been following me for a while, you'll know that Pasta is most certainly one of them. (As is cheese, but that's for a whole other post.) There's something so comforting about pasta, and when the weather starts to cool I'm all for comfort food. (I foresee a lot of soup recipes coming your way in the next few weeks.) So I was excited to go out of my comfort zone (a little) with this Creamy Garlic Herb Mushroom Spaghetti dish.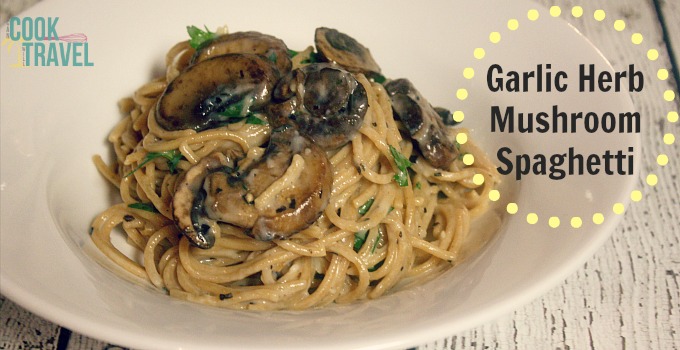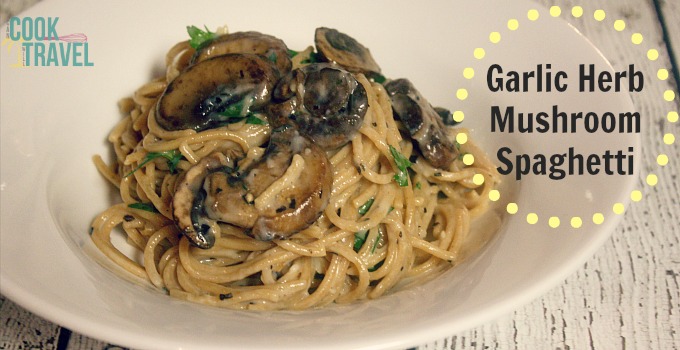 So I found this over at Pinch of Yum, which is a new favorite blog of mine to visit. Not only are the photos drool-worthy but the recipes are delicious. I'm not going to lie … I had to look over this recipe about 3 times in slight disbelief. What I assumed was a dish that had cheesy goodness in it actually contained no cheese at all.
Yet I still continued … I was quite intrigued.
This pasta dish is kind of a 3-step process. First step: Cook your pasta. Second step: Cook your mushrooms. Third step: Cook your sauce
The first step is just cooking the pasta according to the package instructions. A note here that I went for a whole wheat pasta that I think made it an even more filling dish. As for the mushrooms, these are stellar and I could have snacked on them and they were so simple. Melt some butter, stir in some garlic, and then cook the mushrooms for about 10 minutes until they brown and soften.
The sauce is a basic bechamel (white) sauce but what I was excited about was the addition of garlic plus herbs de Provence. That herb blend with dried lavender smells so fabulous and I LOVED the idea of putting it in a white sauce! It was really so good!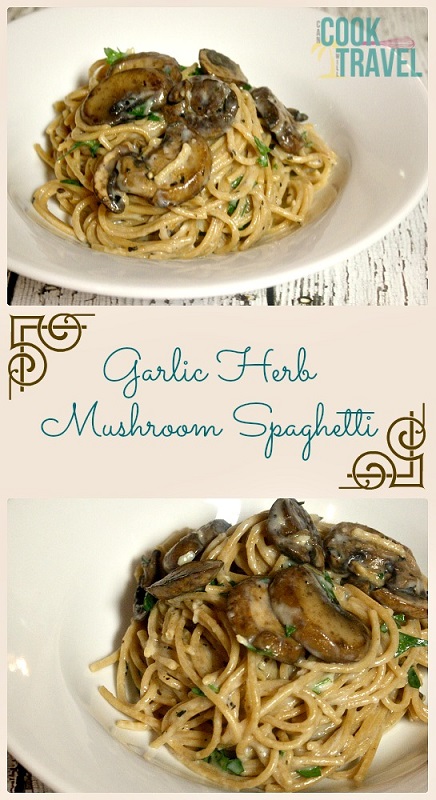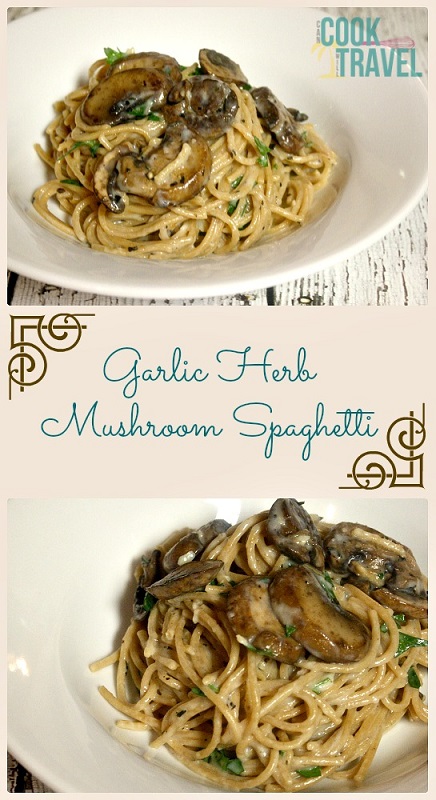 Once the sauce has thickened, add the cooked pasta and mushrooms. Then season with salt and pepper along with some fresh parsley to brighten up the pasta. This recipe makes a TON, it's not super rich (which I thought it might be), and it's so filling. I love the hearty mushrooms as a great meat alternative.
So next time you're looking for a pasta dish that is hearty, filling, and creamy, without feeling heavy … well, my friend, look no further. It's a bit of an elegant pasta dish, if you ask me. It's definitely a winner in my book!
For recipe and step by step instructions for this Creamy Garlic Herb Mushroom Spaghetti recipe, click the link and enjoy! Happy twirling!
A look back:
One year ago: Chewy Peanut Butter Cookies Are Spooky Good!
Two years ago: Bottoms Up for Drunken Pork Chops
Three years ago: Thyme for Apple Cake!
Four years ago: Chili Night
0