Cheesy Bacon Corn Dip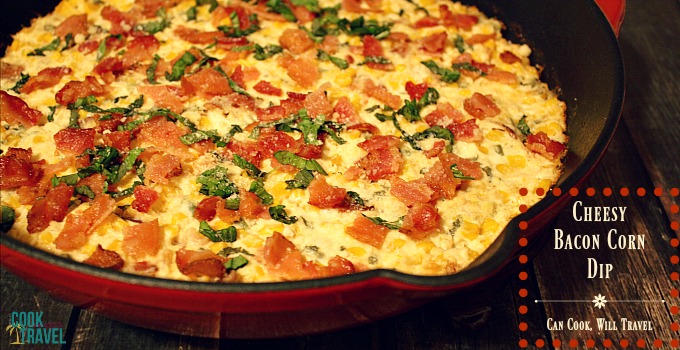 8 strips Bacon
2 (11 oz) cans Whole Kernel Sweet Corn, drained
1 Jalapeno, seeded, ribs removed, and diced
8 oz reduced fat Cream Cheese, softened
1 cup Mozzarella Cheese, shredded
½ teaspoon Salt
Dash of Cayenne Pepper
¼ cup fresh Basil, chopped
Parmesan Cheese, to taste
Tortilla Chips for serving
Start off by preheating your oven to 400 degrees. Then cook your bacon until it's crispy. Once cooked, let it sit on a paper towel-lined plate to absorb the extra grease. Reserve 1 teaspoon of the bacon drippings in your cast iron skillet (or nonstick, oven proof skillet).
While the bacon cooks and cools, remove the seeds and dice your jalapeño. Then combine the corn, softened cream cheese, mozzarella cheese, salt, cayenne pepper, jalapeño, and ½ of the chopped basil.
When the bacon has cooled, crumble 4 strips of it and add it to the cheese mixture. Stir to ensure the bacon is combined throughout the dip. Then crumble the remaining 4 strips of bacon and set it aside.
Transfer the dip to your cast iron skillet and smooth it into an even layer. Then bake for 20 minutes until the dip is bubbly.
Once baked, remove the dip from the oven and sprinkle the remaining bacon and basil over the top and add grated Parmesan cheese to taste as well. Serve right away with your favorite tortillas or veggies and enjoy!