Tomatillo Salsa Verde Chicken Enchiladas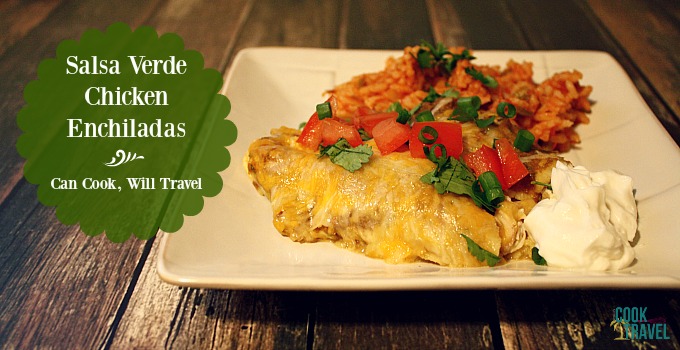 1 lb boneless, skinless Chicken Breasts or Thighs (or pre-cooked shredded chicken)
1 tbsp Olive Oil
2 tsp Cumin
1 tsp Oregano
1 tsp Onion Powder
½ tsp coarse Sea Salt
Juice of ½ Lime
1 batch homemade Tomatillo Salsa Verde, or 2 cans store-bought Salsa Verde
10 tortillas (Corn Tortillas or soft Flour Tortillas can be used)
2 cups shredded Mexican Cheese
Diced Tomatoes, for topping (optional)
Chopped Cilantro, for topping (optional)
Chopped Green Onions, for topping (optional)
Preheat your oven to 350 degrees. Then prep your chicken. I preferred to poach my chicken (bring a large pot of water to a boil, add the raw chicken, cover, remove from the heat and let it poach for 12-20 minutes until chicken is cooked through). Then shred the chicken and toss it with the olive oil, cumin, oregano, onion powder, sea salt, and the juice of ½ a lemon. (Alternatively, you can slice the raw chicken and toss it with these ingredients and bake on a baking sheet for 10-12 minutes.)
If using corn tortillas, heat them in the microwave for 30 seconds to soften them.
Grab a 2-quart baking dish and spray with cooking spray. Then ladle a thin layer or salsa verde on the bottom of the dish. Fill the tortillas with a little chicken and sprinkle of cheese. Then roll up the tortillas and place in the baking dish.
Once all of the enchiladas are filled and assembled, pour the rest of the salsa verde over the top of the tortillas. Then top with more shredded cheese.
Bake in the preheated oven for about 20 minutes or until the cheese is melted and the enchiladas are heated through.
Let the enchiladas sit for 3-5 minutes so they're a bit easier to serve. Enjoy right away and top with your favorite toppings like diced tomatoes, green onions, fresh cilantro, and sour cream.
Recipe by
Can Cook, Will Travel
at https://cancookwilltravel.com/tomatillo-salsa-verde-chicken-enchiladas/