Tomatillo Salsa Verde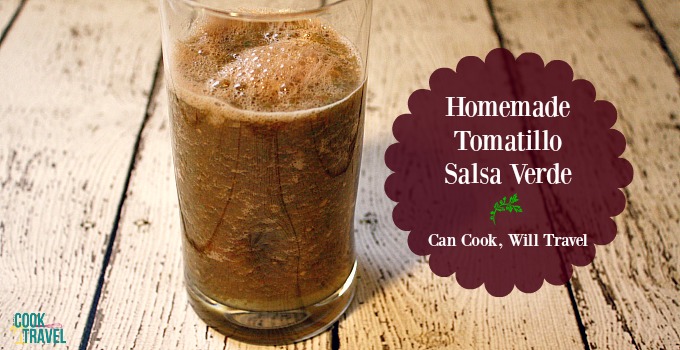 5 Tomatillos, husked and washed
2 Jalapeños, stems removed, deseeded and deveined
1 Jalapeño, raw and stem removed
1 Extra-Large Tomato, stem removed
½ cup packed Chives or Green Onions
2 tsp Salt
1 tsp minced Garlic
Prep all of your ingredients (wash and chop). Then place the tomatillos and 2 jalapeños you've de-seeded in a small saucepan and fill with enough water that it covers the tomatillos.
Cover the saucepan and heat over medium-high heat until the mixture boils and allow to cook about 15 minutes or until the jalapeños are soft. Then drain the tomatillos and jalapeños.
Add the drained tomatillos and jalapeños to a blender. Then add the remaining ingredients including the raw jalapeño, tomato, green onions or chives, salt, and minced garlic. Blend until smooth. Taste and adjust seasonings by adding more salt if needed.
Use this salsa right away or store in an air-tight container in the fridge for up to a week. It's great on it's own with tortilla chips, or as a sauce for tacos or in an enchilada dish. Enjoy!