5-Spice Fried Rice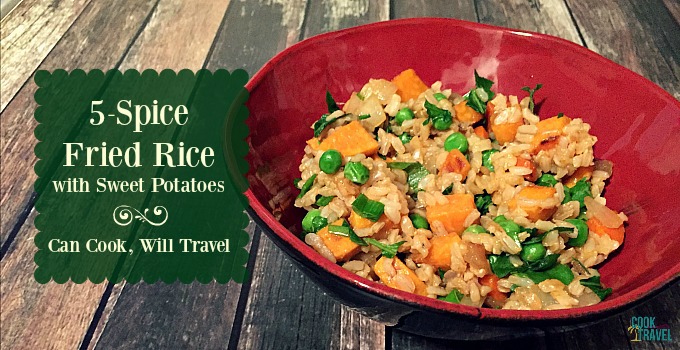 1 Sweet Potato, medium-sized (3/4 to 1 pound)
2 teaspoons Grapeseed Oil (or another neutral oil like peanut or plain sesame oil)
2 tablespoons Water (or more if you need it)
½ small Yellow Onion, diced
1 Carrot, diced
¼ teaspoon Chinese 5-Spice Powder
1 to 2 Garlic cloves, minced
1½ tablespoons Soy Sauce (or Tamari)
1 tablespoon Rice Vinegar
1 teaspoon Chili Paste or Sriracha
4 cups cooked Brown Rice (that has been chilled for at least a couple of hours)
1 cup Bitter Greens, chopped (I used Arugula and Thug Kitchen said Watercress and Mustard leaves are good options as well)
½ cup Green Onions, sliced
1 cup frozen Green Peas, thawed
First of all, cook your brown rice ahead of time. Then prep and chop all of your veggies including the sweet potato, onion, carrot, garlic, green onions, and bitter greens.
Heat a non-stick skillet or wok over medium heat, and add a teaspoon of oil to the pan. Once it's hot, add the sweet potato and 2 tablespoons of water. Stir often for 5 to 8 minutes until the potato is starting to be tender and browning on a couple of sides. If the pan gets dry, add more water.
Once the potatoes are tender and starting to brown, add the onion and carrots and cook another 3 minutes or until the onions are translucent.
While the veggies continue to cook, add the 5-spice powder and garlic to the veggies and stir to mix well. Then remove the veggies from the pan and wipe out the pan.
In a small bowl, combine the soy sauce, vinegar, and Sriracha and whisk well.
In the same nonstick pan, heat over medium heat and add the other teaspoon of oil. Stir fry the brown rice in the pan for 3 to 5 minutes to heat the rice. The sauce is added to the rice, and stir it well to ensure the rice is coated with the sauce.
Add the cooked vegetables to the rice, and stir fry for a minute until everything is combined. Finally, add the greens, peas, and green onions to the pan and fold into the rice mixture. Remove from the heat and serve right away. You can top with a tiny sprinkle of sea salt or soy sauce if you want a little more flavor. Enjoy!!