Parmesan Bacon Spaghetti Squash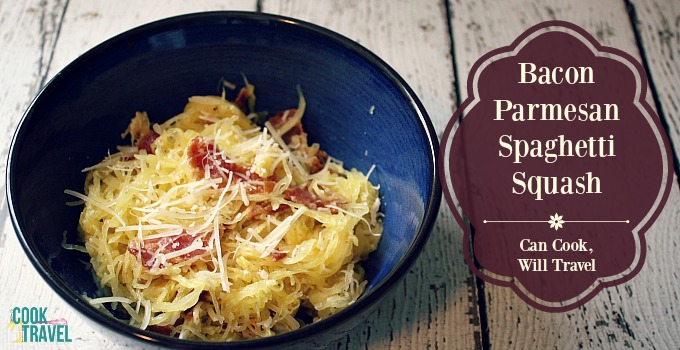 1 large Spaghetti Squash (about 4½ pounds)
½ pound Bacon
4 tablespoons unsalted Butter, cut into pieces
1 cup shredded Parmesan Cheese
Olive Oil
Salt and pepper, to taste
Begin by preheating the oven to 375 degrees. Then line 1-2 baking sheets with a Silpat or parchment paper.
Slice the stem end off of the spaghetti squash. Then slice the squash into 1-inch slices. If you are having a difficult time slicing the squash, microwave it for 30 seconds at a time to soften the skin. Be sure to use a sharp knife to get through the tough skin. Remove the seeds in the center of each ring of squash.
Place the spaghetti squash rings on the lined pans. Then drizzle a little olive oil over each slice and salt and pepper the squash. You can then flip them so each slice has a bit of oil on it. Roast in the oven for 40-45 minutes or until the squash easily separates into strands with a fork. I'd recommend flipping each slice halfway through baking.
While the squash bakes, cook your bacon. You can use ½ pound to a pound of bacon depending on how much you want. Cook with your preferred method. I used my NuWave and then cut them into pieces. Alternatively you can cut the bacon into pieces and cook on the stove top until they're crispy.
When the squash is cooked, allow it to cool for 3-5 minutes so you can handle it a bit. Then scrape the spaghetti squash away from the skin and transfer the squash to a bowl and discard the outer skin.
Toss the squash with the butter until the butter is melted and the squash is coated. Add the bacon and a cup of shredded Parmesan to the squash and combine. Season with salt and pepper and serve immediately. You can top it with more shredded Parmesan if you'd like. Enjoy!
Recipe by
Can Cook, Will Travel
at https://cancookwilltravel.com/parmesan-bacon-spaghetti-squash/