Paleo Chocolate Chip Zucchini Bread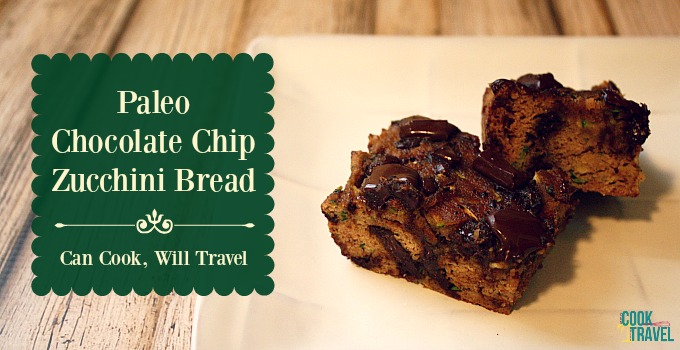 1 cup shredded Zucchini (from about 1 medium zucchini)
6 large Eggs at room temperature
1 large ripe Banana, mashed
3 tablespoons Pure Maple Syrup (Go for the good quality kind here to give your bread even better flavor)
2 tablespoons Coconut Oil, melted and cooled
1 teaspoon Vanilla Bean Paste (or pure vanilla extract)
¾ cup Coconut Flour
1½ teaspoons ground Cinnamon
¾ teaspoon Baking Soda
¼ teaspoon Ground Nutmeg
⅛ teaspoon Kosher Salt
4 ounces Dark Chocolate, chopped into chunks or dark chocolate chips (to keep the bread completely paleo, use a dairy-free chocolate)
Begin by preheating your oven to 350 degrees. Line an 8x8 pan (metal or glass will work) with parchment paper. Prep all of your ingredients. That includes grating your zucchini and squeezing out any excess moisture. (You can do this either pressing it with a fine mesh strainer, pressing it in-between a couple of layers of paper towels, or using a cheese cloth.
In a large bowl, mash your ripe banana. Then whisk in the 6 eggs, 3-4 tablespoons of maple syrup (depending on how sweet you want it), 2 tablespoons of melted and cool coconut oil, and a teaspoon of vanilla bean paste.
Once the liquid ingredients are well combined, add ¾ cup of coconut flour, 1½ teaspoons of ground cinnamon, ¾ teaspoon of baking soda, 1/ teaspoon of ground nutmeg, and ⅛ teaspoon of salt to the bowl and stir until it's well combined.
Add ⅔ of the chopped dark chocolate to the bowl along with the grated zucchini to the bowl and fold it into the batter.
Pour the mixture into your prepared pan and spread it out so it's flat across the top. Then top with the remaining chocolate chunks. Bake for 30-35 minutes, or until the top is golden and when you insert a toothpick in the center, it comes out clean.
Let the baked bread cool on a wire rack for 30 minutes, and then carefully remove it from the baking dish to let it finish cooling completely. Once it's cool, serve and enjoy!
Recipe by
Can Cook, Will Travel
at https://cancookwilltravel.com/paleo-chocolate-chip-zucchini-bread/