Thai Chicken Salad with Ginger Lime Dressing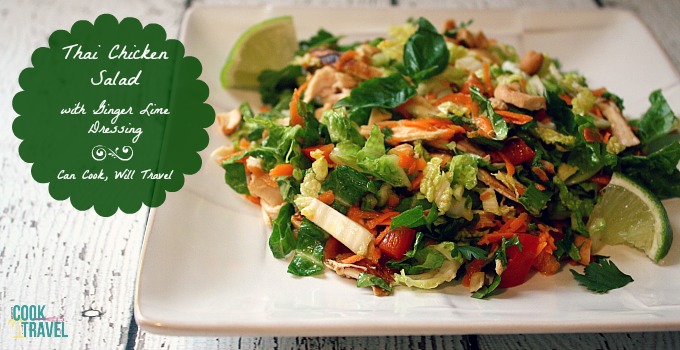 Serves:
5-6 main servings
1 tablespoon Coconut Oil
Small Red Onion, finely chopped
1 teaspoon minced Garlic
1 pound boneless skinless Chicken Breasts
4 tablespoons Lime Juice (about the juice of 1 juicy lime)
3 tablespoons Fish Sauce
1 inch piece Fresh Ginger, peeled and grated
2 teaspoons Crushed Red Pepper Flakes
Honey, to taste (at least 1 teaspoon)
3 tablespoons Extra-Virgin Olive Oil
4 cups shredded Napa Cabbage
1 Red Pepper, diced
3 Carrots, grated
¼ cup fresh Basil, chopped
¼ cup fresh Cilantro, chopped
2 Scallions, chopped
¼ cup raw Cashews, toasted and chopped
1 Lime for serving
Start off by chopping all of your veggies including the red onion, garlic, cabbage, red pepper, carrots, scallions, basil, and cilantro. Then toast the cashews in a nonstick skillet over medium heat (no oil needed). Stir regularly until they start to turn brown and you can smell the nuts. Set aside until you're ready for them.
In a large, non-stick skillet heat the coconut oil over medium heat. Add the garlic and red onion to the pan and sauté for about 2 minutes. Then add the chicken breasts to the pan and heat until they are cooked through. (I get a bit paranoid about chicken, so I cooked mine for at least 12 minutes.) Cut into the thickest part of the chicken to make sure it's cooked all the way through.
While the chicken cooks, whisk up your dressing. Combine the lime juice (about 4 tablespoons or I used the juice of one large lime) along with 3 tablespoons of fish sauce, grated ginger, and 2 teaspoons of red pepper flakes. Then whisk in 3 tablespoons of olive oil and whisk until the oil incorporates into the dressing. Add honey to taste. (I'd say at least a teaspoon to balance the flavors.)
Let the finished chicken cool on a plate until you're able to shred it. Use your favorite method to shred the chicken. I prefer using my hands but forks work well too.
Now it's time to put the salad together. In a large bowl add the shredded cabbage, grated carrots, scallions, basil, cilantro, and shredded chicken and stir to combine. Then whisk the dressing and pour it over the salad ingredients and stir until it's completely mixed into the salad.
Serve the salad right away and top with the cashews, extra chopped basil and cilantro, and lime wedges. Enjoy!!
Recipe by
Can Cook, Will Travel
at https://cancookwilltravel.com/thai-chicken-salad-with-ginger-lime-dressing/