Spaghetti and Garlic Oil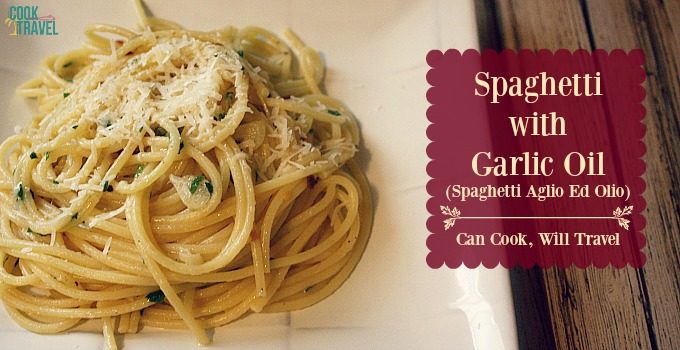 ¾ lb. Spaghetti or Spaghettini
4 tablespoons Extra-Virgin Olive Oil
3 tablespoons Garlic, finely sliced
½ teaspoon Red Pepper Flakes
Sea Salt & Freshly Ground Pepper
2 tablespoons fresh Italian Parsley, finely minced
4 tablespoons Pecorino Romano Cheese, freshly grated
Begin by prepping your food in advance: finely slice the garlic, mince the flat-leaf Italian parsley, and finely grate your cheese.
Bring a large pot of salted water to a boil. Then cook the pasta according to package instructions. As the pasta cooks, reserve ½ cup of pasta water.
While the pasta is cooking, heat 2 tablespoons of extra-virgin olive oil in a nonstick pan over medium heat. Once the oil is hot, add the sliced garlic and sauté until the garlic is tender is starts to brown.
Then add the ½ cup of pasta water, red pepper flakes, salt and pepper to taste, and chopped parsley to the garlic oil, and turn the heat to low.
With about a minute left of cooking the spaghetti, reserve another ½ cup of pasta water. When the pasta is cooked, drain the pasta. Add the drained spaghetti to the pan with the sauce and toss until the liquid is absorbed by the pasta.
Finally add the remaining 2 tablespoons of olive oil and 2 tablespoons of grated Pecorino Romano cheese to the pasta and toss to combine. You can add some of the reserved pasta water to the pasta if it is too dry. Once your pasta is well coated and combined, serve immediately and top with the remaining cheese. Enjoy!