Huevos Rancheros Style Breakfast Sandwich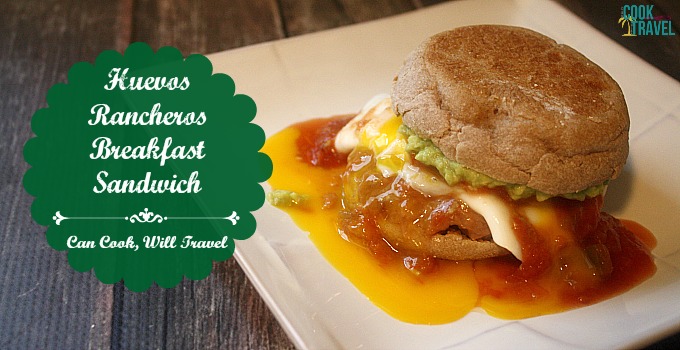 2 English Muffins, halved
⅓ cup Refried Beans
2 Eggs
1 Avocado
Salsa
Salt & Pepper
Begin by heating your refried beans your favorite way. My method is to heat a can of refried beans over medium heat and stir in 1-2 tablespoons of salsa. Once the beans are hot, set them to the side.
Start cooking your egg. You can make your eggs however you'd like. If you want a runny yolk, cook them sunny side up by heating a nonstick pan over low heat, and add a teaspoon of olive oil. Carefully break an egg in a small dish and use the dish to pour the egg into a small spot in the pan. Then cook the eggs over low heat until the whites are completely cooked through.
While the egg cooks, toast the English muffins. And mash up the avocado with a little salt and pepper.
To put the breakfast sandwich together, spread half of the avocado on the top half of each English muffin. Then spread some refried beans on the bottom half of the English muffins. Carefully transfer the cooked egg to the muffin half that has the refried beans on it. Then spoon however much salsa you'd like over the egg. Top the egg with the top half of the muffin and dig in and enjoy!
Recipe by
Can Cook, Will Travel
at https://cancookwilltravel.com/huevos-rancheros-style-breakfast-sandwich/