Caramel Banana Baked French Toast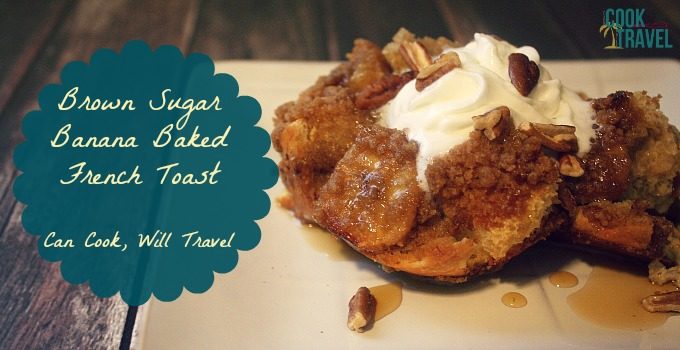 BROWN SUGAR BANANA FILLLING:
6 tablespoons unsalted Butter
¾ cup Light Brown Sugar, packed
2 tablespoons pure Maple Syrup
pinch Salt
3 ripe-firm Bananas, peeled and sliced
FRENCH TOAST:
8 large Eggs
1 cup Milk (preferably whole or 2%)
1 cup fat-free Half and Half
2 tablespoons Light Brown Sugar
1 teaspoon ground Cinnamon
1 tablespoon Vanilla Bean Paste (or good quality vanilla extract)
One 15-oz loaf Italian or French Bread, cut into large cubes
STREUSEL TOPPING:
⅓ cup Light Brown Sugar, packed
⅓ cup all purpose Flour
½ teaspoon ground Cinnamon
pinch Salt
3 tablespoons unsalted Butter, softened
SERVE WITH: Your choice of Maple Syrup, Caramel Sauce, Sliced Bananas, Sliced Strawberries, Chopped Nuts, and/or Whipped Cream
Begin by making the brown sugar banana filling. In a non-stick skillet over medium heat, melt 6 tablespoons of butter. Then add ¾ cup of brown sugar, 2 tablespoons of maple syrup, and a pinch of salt and whisk well. Once all of the lumps are out and the mixture is smooth, remove the pan from the heat. Add the banana slices and stir gently to coat all of the bananas.
Then in a large bowl, you'll mix up the custard. Add 8 large eggs, a cup of milk, a cup of half and half, 2 tablespoons of brown sugar, 1 teaspoon of cinnamon, and a tablespoon of vanilla bean paste or extract and whisk really well until the custard is throughly combined.
Spray a 2.5 or 3 quart baking dish with cooking spray. Then put half of the bread cubes in the bottom of the pan in an even layer. Then spoon half of the brown sugar banana filling over the bread. Add the remaining bread crumbs in a single layer. Whisk the custard mixture again and pour it over the bread. Then press down the top layer of bread so it'll also start absorbing the custard. Finally top the bread with the remaining brown sugar banana filling. Cover the baking dish with plastic wrap and refrigerate overnight.
For the streusel topping, you can make it the night before and refrigerate or make it before baking the French toast if you'd rather. In a medium-sized bowl combine ⅓ cup of brown sugar, ⅓ cup of flour, ½ teaspoon of cinnamon and a pinch of salt with a fork. Then add 3 tablespoons of softened butter and use the fork to work the butter into the dry mixture until it resembles wet sand. Cover and refrigerate until you're ready for the topping.
After the bread and custard have set up in the fridge overnight, preheat your oven to 350 degrees. Top the French toast with the streusel topping. Then bake for 40-55 minutes or until the custard has cooked (meaning the center isn't super wet) and the top has started to caramelize. (I baked mine about 50 minutes so it was more well done and the top had a nice caramelized crust.) Serve with your favorite toppings and enjoy!
Recipe by
Can Cook, Will Travel
at https://cancookwilltravel.com/caramel-banana-baked-french-toast/