Chicken Sesame Noodles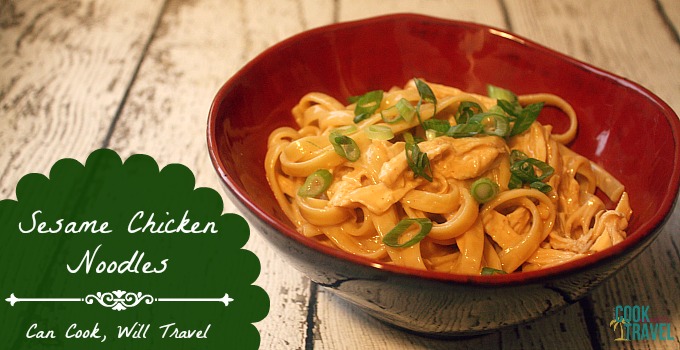 Kosher Salt
1 boneless, skinless chicken breast (8 ounces)
8 ounces dried Fettuccine
2 teaspoons Sesame Oil
¼ cup Peanut Oil
¼ cup Tahini
3 tablespoons Soy Sauce (reduced sodium)
2 tablespoons Red Wine Vinegar
2 teaspoons Chili Oil (I used Mongolian Fire Oil)
1 teaspoon Honey
½ teaspoon Cayenne Pepper
1 Garlic clove, minced
2 Scallions, sliced thinly
Bring a large pot of water to a boil (filling i about two-thirds full). Then add the chicken breast to the water, cover the pot, and remove the pot from the heat. If it's one breast then let it sit for 15 minutes. But if you're using 2 small chicken breasts allow it to sit in the water for 12 minutes or until the chicken is cooked and tender. Remove the chicken from the water and cut to ensure the chicken is cooked all the way through. If it's not, place it back in the water until it's fully cooked. Do NOT discard the water. Once the chicken is cool, shred it with your hands or forks so it's in bite-sized pieces.
Once the chicken is removed from the water, bring the water back to a boil. Then cook your fettuccine according to package directions until it is al dente. When the pasta is cooked, drain it in a colander and rinse thoroughly with cold water and shake the colander to drain any excess water.
While the pasta cooks, mix up the sauce. In a medium-sized bowl combine 1 teaspoon of sesame oil, the peanut oil, tahini, soy sauce, red wine vinegar, chili oil, honey, cayenne pepper and minced garlic. Whisk the sauce until it's really smooth.
Once the pasta is well-drained, transfer it to a large bowl and use paper towels to pat the pasta as dry as possible (so that the pasta can absorb all of the flavors). Then toss the pasta with a teaspoon of sesame oil.
Add the shredded chicken and sauce and toss until the sauce is coating the pasta and chicken. Serve right away and garnish with sliced scallions. Enjoy!