Dark Chocolate Sea Salt Coated Almonds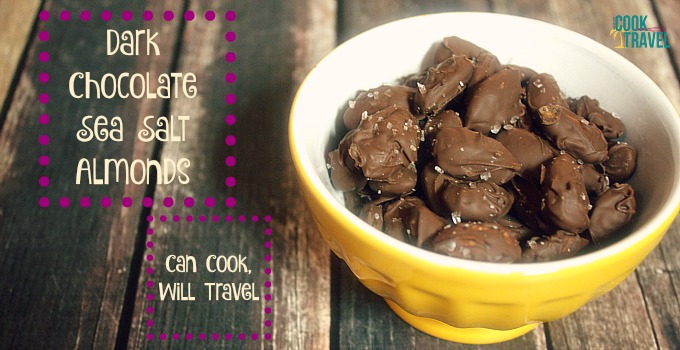 6 ounces Bittersweet or Semi-Sweet high quality Chocolate
1 and ½ cups Whole Almonds (raw and unsalted)
Sea Salt
Turbinado Sugar (or any coarse/raw sugar)
Begin by lining a rimmed baking sheet. I used parchment paper, but a Silpat is another great option.
Using a double boiler, melt the dark chocolate and stir it frequently. (You can melt the chocolate in the microwave, but you'll want to watch it carefully, heat it in 30 second intervals stirring really well after each 30 seconds.)
Once the chocolate has melted, remove it from the heat and stir in the almonds, combining so that the almonds are completely coated in chocolate.
Using a dipping fork, you'll lift 1-2 almonds out of the bowl at a time, tapping the fork to let the excess chocolate drip off. Transfer each almond to the baking sheet and try to separate them so they set up individually and aren't in clumps.
Finally once all of the almonds are coated and transferred to the sheet pan, you'll top with coarse sea salt and the turbinado sugar sprinkling the salt and sugar over the almonds so each almond has a little of each.
Let the chocolate sit untouched for a few hours until the chocolate has set up. (You can speed up the process by placing the baking sheet in the refrigerator for an hour or so.) Then store in an airtight container in the refrigerator for up to 4 weeks and enjoy!
Recipe by
Can Cook, Will Travel
at https://cancookwilltravel.com/dark-chocolate-sea-salt-coated-almonds/