Homemade Eggnog Truffles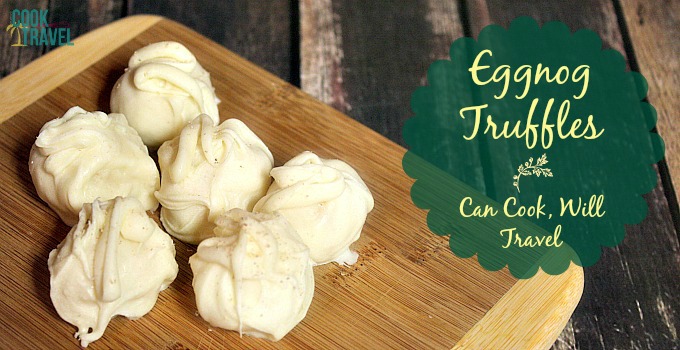 1 lb (16-oz) White Chocolate, divided in half (I used white baking chips)
4 oz Cream Cheese, softened
¼ cup Powdered Sugar
¼ teaspoon Ground Nutmeg
¼ teaspoon Imitation Brandy Extract (or Rum Extract)
In an electric mixer bowl (or using a hand mixer), blend the cream cheese, powdered sugar, nutmeg, and brandy extract until the mixture is creamy.
While the cream cheese mixture blends, melt 8 ounces of the white chocolate. Do this by placing it in a microwave-safe bowl and microwaving for 30 seconds at a time. Stir after 30 seconds and continue heating until the chocolate is completely melted and smooth.
Let the chocolate cool slightly and then add it to the cream cheese mixture. Mix it together in the electric mixer until the filling is thoroughly combined. You'll notice it thickens up quite a bit.
Transfer the filling to a storage container and refrigerate for about 2 hours or until the filling has firmed up.
Once your filling is firm (after 2 hours), melt the remaining 8 ounces of chocolate as described in step 2.
Let the chocolate cool slightly and then roll the filling into 1-inch balls. Dip each ball into the chocolate using 2 forks to help you work with the ball and let the balls get fully coated. Place each dipped ball on a baking sheet lined with waxed paper.
You can drizzle extra chocolate over the top of each truffle and grate a little fresh nutmeg over the top of each one. Once the candies are fully set, enjoy! Refrigerate leftover truffles to keep them longer and let come to room temperatures to enjoy them. Happy eating!