Homemade Peppermint Patties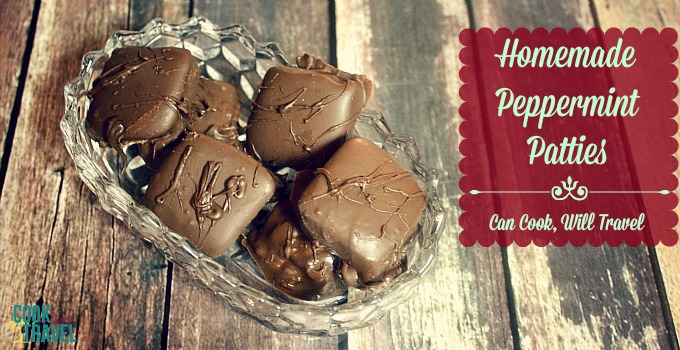 3 cups Confectioners' Sugar
3 tablespoons unsalted Butter, at room temperature
3 tablespoons Heavy Cream
1¼ teaspoon Peppermint Extract (Mint extract works perfectly too)
½ teaspoon Vanilla Extract
12 ounces Dark Chocolate Candy Melts (available at craft stores and the holiday baking section of specialty groceries)
Begin by mixing the confectioners' sugar and butter (at room temperature) in an electric mixer until combined.
Gradually add the heavy cream to the sugar/butter mixture until the mixture comes together.
Finish by adding the vanilla and mint extracts and combine well.
Lay a large piece of waxed paper on the counter and put the peppermint filling in the middle. Then form the filling into a log shape that is about an inch in diameter. Wrap the log in the waxed paper and store in the freezer for 20-30 minutes.
When the log is frozen, use a sharp knife to cut the log into ½-inch thick slices. Melt the chocolate in the microwave, stirring every 15 seconds until the chocolate is melted.
Dip each slice in the melted chocolate and flip to coat. Use a fork to remove the slice from the chocolate and tap it against the bowl to remove the excess chocolate.
Transfer the chocolate coated slices to a lined baking sheet and let them cool completely. If you have leftover melted chocolate, use it to drizzle over the top of the peppermint patties. Once the candies are completely cooled, enjoy!!
Store the extra homemade peppermint patties in an airtight storage container.
Recipe by
Can Cook, Will Travel
at https://cancookwilltravel.com/homemade-peppermint-patties/