Homemade Pizza Dough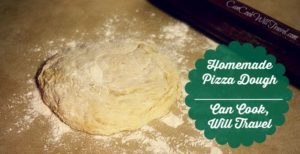 1⅓ c. warm Water (typically between 110-115 degrees)
¾ T Active Dry Yeast
¾ T Salt
½ T Sugar
⅛ c. Extra-Virgin Olive Oil
3¼ c. unbleached all-purpose flour
Heat your water until it is between 110-115 degrees (or whatever temperature your yeast packaging recommends).
Sprinkle the yeast and a little bit of the sugar over the warm water and let it proof for about 5 minutes. (This is when using active dry yeast, not instant.)
After 5 minutes carefully stir in the sugar, salt, and olive oil. Transfer the mixture to a medium-sized bowl.
Add the flour to the bowl and stir until flour is mixed in. (You don't have to be super careful in mixing it and can stir however quickly you'd like.)
Cover the bowl with plastic wrap and let it rest in a warm spot in your kitchen for 2-4 hours.
Once you're ready for the dough, roll it out on a floured surface. Put the dough on either a pizza peel or a baking sheet and top it with your favorite ingredients (sauce, meats, veggies, cheese...whatever you love!).
Bake the pizza at 475 for 5-8 minutes or until the toppings are heated, cheese is bubbly, and crust begins to turn a golden brown. Cut and enjoy!