Garlic and Ginger Edamame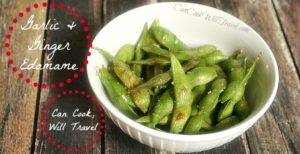 Author:
via The Wanderlust Kitchen
Recipe type:
Healthy Snack & Vegetables
1 (1 pound) bag frozen in-shell edamame beans
1 Tablespoon extra virgin olive oil
1 teaspoon grated garlic
1 teaspoon grated ginger
2 Tablespoons coarse sea salt
Begin by cooking your edamame according to your package directions. Mine were steam in the bag, but some have you boil them, so be sure to read the package.
While the beans cook, grate your garlic and ginger.
Heat a large skillet over medium-high heat and add a tablespoon of olive oil.
When the edamame are cooked, drain them in a colander to remove excess water.
Add the drained edamame to the hot pan and place in a single layer. Stir them every 2 minutes or so, allowing time to brown them on each side. This part took about 6 minutes for me.
Add the grated ginger and garlic to the edamame and combine so the beans are well coated. Then turn off the heat and continue stirring for 2 more minutes.
Pour the beans into a large bowl and let them cool for about 10 minutes. Once they are cool, toss with 2 tablespoons of coarse sea salt and enjoy while they are still warm. You'll want to have an extra bowl for the empty pods as you eat. Enjoy!
The recommended kitchen tools include a microplane or small grater and a good quality, large skillet.
Recipe by
Can Cook, Will Travel
at https://cancookwilltravel.com/garlic-and-ginger-edamame/