Cranberry Chicken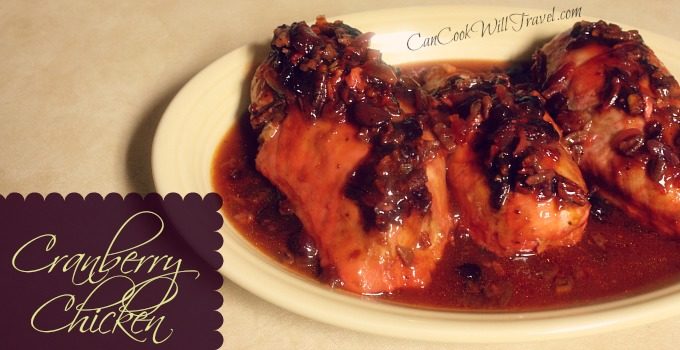 Serves:
3-4 chicken breasts
3-4 Chicken Breasts, trimmed
1 can whole berry Cranberry Sauce
1 pkg. chopped Pecans
1 bottle Catalina dressing
1 pkg. dry Onion Soup Mix
Start off by preheating the oven to 350 degrees.
Spray a baking dish (I used a 9x13 glass dish) with cooking spray and place the chicken breasts in the pan.
Spread the cranberry sauce over the top of the chicken spreading it liberally so that the chicken is covered.
Sprinkle the chopped pecans over the top. I used about a cup of pecans.
Next sprinkle the dry onion soup over the top of the chicken.
Finally pour the Catalina salad dressing over the chicken. I didn't use a whole bottle, but used quite a bit to make sure the chicken was covered. Lightly cover with foil and bake for 45 minutes.
After 45 minutes, remove the foil and bake for an additional 15 minutes. Check the chicken to make sure it's at least 165 degrees in the thickest part of the chicken. Then serve! I loved spooning some sauce over the top of the sliced chicken for extra flavor. Enjoy!!