Cranberry Orange Bread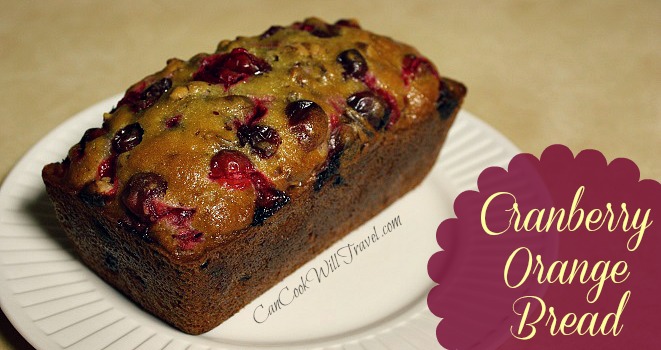 4 cups Flour
2 tsp Baking Soda
1½ tsp Salt
2 cups Sugar + ¼ cup to put on top of the cranberries
4 cups fresh or frozen Cranberries cut in half
2 Tbs Orange Zest
2 Eggs
1 cup Orange Juice
1 cup Water
⅔ cup Vegetable Oil
2 cups chopped Pecans or Walnuts
Begin by preheating your oven to 350 degrees.
Clean and rinse the cranberries. Then slice any large cranberries in half and you can keep the small cranberries whole. In a medium-sized bowl combine the cranberries with ¼ cup of sugar and set the bowl aside.
In a separate bowl combine the 4 cups of flour, 2 teaspoons of baking soda, and 1½ teaspoons of salt and set aside until you're ready for it.
In a mixing bowl (I used my stand mixer) add 2 cups of sugar, ⅔ cup of vegetable oil, and 2 tablespoons of orange rind. And turn the mixer on and combine well.
Add the eggs one at a time to the sugar mixture and once combined alternate adding the dry ingredients with the water and orange juice. Once that is well incorporated, fold in the pecans and cranberries.
Pour the bread batter into well greased mini bread pans and bake for 20-30 minutes or until a toothpick is inserted and comes out clean.
Let them cool enough in the tin on a wire rack to handle and then carefully remove them from the tin and allow them to cool completely on a wire rack. Enjoy!