Pumpkin Ravioli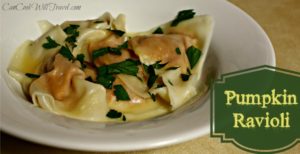 1 cup canned pumpkin
⅓ cup grated Parmesan cheese
¼ teaspoon salt
⅛ teaspoon black pepper
24 wonton wrappers
1 teaspoon salt
½ cup chicken broth
1½ tablespoons unsalted butter
Chopped parsley
Begin by getting a large pot of water boiling.
In a medium-sized bowl, combine a cup of canned pumpkin, ⅓ cup of grated Parmesan cheese, ⅓ teaspoon of salt and ⅛ teaspoon of pepper.
Grab a wonton wrapper and lay it flat on a cutting board. Spoon about 2 teaspoons of filling in the middle of the wrapper. Use your finger or a pastry brush and wipe water on the two edges closest to you. Then take the opposite corner and press it on the opposite corner. Then press the sides down being careful to not let filling leak out and make sure the ravioli is completely sealed.
Cook the ravioli in the boiling water along with a teaspoon of salt for about 7 minutes and then drain. Be sure you're gently handling the ravioli.
Finally make the sauce by combining 1.5 tablespoons of butter with ½ cup of chicken broth. Stir and bring to a boil. Then carefully add the ravioli to the sauce and flip them to coat.
Serve the ravioli with a little drizzling of sauce and top with chopped parsley and enjoy!