Pumpkin Waffles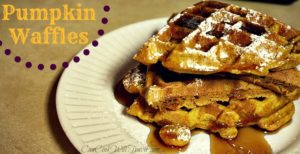 2 cups of all-pupose flour
3 tablespoons of firmly packed dark brown sugar
2 teaspoons of baking powder
1 teaspoon of baking soda
1 teaspoon of cinnamon or pumpkin pie spice (I did ½ teaspoon of each spice)
½ teaspoon of kosher salt
1½ cups of milk
1 cup of canned 100% pure pumpkin
1 egg yolk plus 3 egg whites
4 tablespoons of melted cooled butter
2 tablespoons of apple cider vinegar
Start off by melting your butter and letting it cool.
Move onto the egg whites. Place the whites in a stand mixer and whisk at high speed until stiff peaks are formed. Then let them sit until you're ready for them.
Measure out all dry ingredients and whisk it all together in a large bowl. This will include flour, dark brown sugar, baking powder, baking soda, cinnamon, pumpkin pie spice, and kosher salt.
Whisk together the wet ingredients in a small bowl. You'll include a cup of the pumpkin puree, an egg yolk, milk, the cool melted butter, and apple cider vinegar.
Add the wet ingredients to the dry and stir to combine.
Carefully fold in the egg whites. Then heat up your waffle iron. Follow the directions for your waffle iron and cook them up. I served mine with maple syrup and powdered sugar. Enjoy!!