Apple and Bacon Stuffed Acorn Squash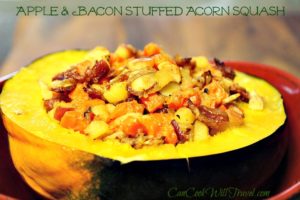 1 Acorn Squash
1 large Apple
3 small Carrots
6 slices Bacon
½ cup sliced Almonds
¼ cup Breadcrumbs (optional)
⅛ cup White Wine
⅛ cup Heavy Cream
1 Tbsp Maple Syrup
Salt and Pepper to taste
Preheat oven to 400. Cut the squash in half lengthwise and remove the seeds with a spoon. Spray a baking dish with nonstick spray and place the squash cut-side down. Add about ¼ of water and place in the oven for 20-25 minutes. You want the flesh to be very tender!
Meanwhile cook the bacon in a skillet over medium low heat until done and crispy. Remove from skillet and let cool before crumbling.
Finely chop the apple (I left the skin on) and carrots and add to the pan with the bacon drippings. Saute for about 10 minutes until soft; add the almonds and saute another minute. Add the wine and let it evaporate while stirring constantly. Season with salt and pepper and remove from heat.
Stir in the cream, maple syrup and breadcrumbs and let the mixture sit until the squash is done. Crumble bacon and stir into the apple mixture.
When the squash is very tender carefully flip it over using tongs and put half of the apple mixture into the middle of each squash half. Bake another 5 minutes at 400. Serve hot!
Recipe by
Can Cook, Will Travel
at https://cancookwilltravel.com/apple-bacon-stuffed-acorn-squash/