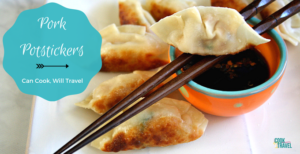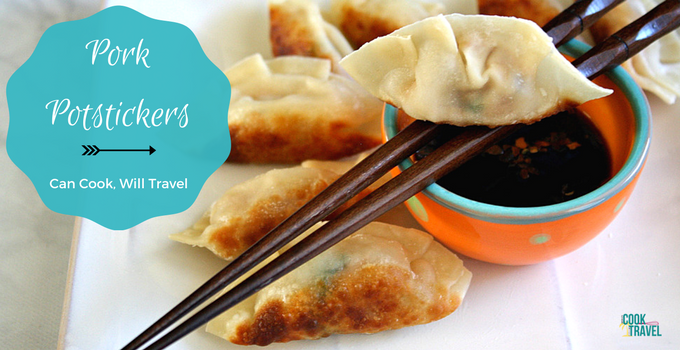 Pork Potstickers
Yield 60 potstickers
If you love pork and potstickers, then this recipe is going to be perfect! You'll love how much flavor each potsticker has!
Ingredients
For Potstickers:
1 pound Ground Pork
1 cup shredded Green Cabbage
3 ounces Shiitake Mushrooms, diced
2 cloves Garlic, pressed
2 Green Onions, thinly sliced
1 tablespoon Hoisin
1 tablespoon freshly grated Ginger
2 teaspoons Sesame Oil
1 teaspoon Sriracha, or more, to taste
1/4 teaspoon White Pepper
Won Ton wrappers (at least 36 - I had enough filling for about 60)
2 tablespoons Grapeseed oil (Peanut or Vegetable Oil works well too)
For Dipping Sauce:
Soy sauce, for serving
Crushed Red Pepper Flakes, for serving
Instructions
First thing to do is to make your filling. Pep your ingredients by shredding a cup of cabbage, slicing your green onions, mincing your fresh ginger, mincing your garlic, and dicing your shiitake mushrooms.
Then in a large bowl add the ground pork, cabbage, mushrooms, garlic, green onions, ginger, Hoisin, sesame oil, Sriracha, and white pepper. Use your hands, and combine all of the ingredients so that the filling is well combined.
For a traditional potsticker, you'll want round won ton wrappers. So if you have square wrappers, use a round cutter to cut them into circles.
Depending on the size of your won ton wrappers, add 1 teaspoon up to 1 tablespoon of filling to the center of each won ton. Since I cut mine to a round size, a teaspoon was a good amount of filling, because you want to be sure you don't have too much filling.
Then use your finger to spread water around the edges of the won ton wrapper. Then fold the won ton in half and press the edges to seal, and then crimp the edges to get a purse-style potsticker. The key is to make sure your edges are totally sealed so then the filling doesn't escape.
To cook the fresh potstickers: Add about a teaspoon to a tablespoons of grapeseed oil to a nonstick pan and heat it over medium heat. Once the oil is hot, then add a layer of potstickers making sure that they are sitting flat. Cook for about 2-3 minutes or until the bottoms have browned. Serve with a small dish of soy sauce with a little crushed red pepper flakes added to it.
To Freeze: Freeze your leftover potstickers by placing them on a cookie sheet in the freezer in a single layer until they are fully frozen (at least an hour), and then transfer to plastic bags and remove as much air as you can, which I prefer to do with my handheld fresh saver gadget.
To cook from frozen: Heat a nonstick pan over medium heat and then add about a tablespoon or less of grapeseed oil. Once the oil is hot, add the potstickers in a single layer and let them cook for 2-3 minutes. Once the bottoms have started to brown, carefully add 4 tablespoons of water to the pan and cover and cook for about 4-5 minutes or until the water has nearly disappeared. Remove from the heat and then serve immediately with soy sauce & crushed red pepper flakes or else sweet chili sauce is great too. Enjoy!
Notes
If you use square wraps and cut them a round size, you'll use less filling and can make more potstickers. Also I really love them frozen, so in the future I'll make them ahead and freeze all of the potstickers.
Courses Appetizer
Cuisine Asian
Amount Per Serving

Calories 393

% Daily Value

Total Fat 21 g

32%

Saturated Fat 6 g

30%

Unsaturated Fat 13 g

Cholesterol 51 mg

17%

Sodium 267 mg

11%

Total Carbohydrates 35 g

12%

Dietary Fiber 2 g

8%

Sugars 2 g

Protein 16 g

32%
Recipe by Can Cook, Will Travel at https://cancookwilltravel.com/easy-pork-potstickers-recipe/