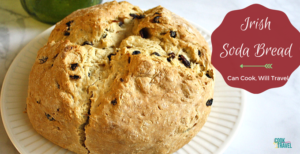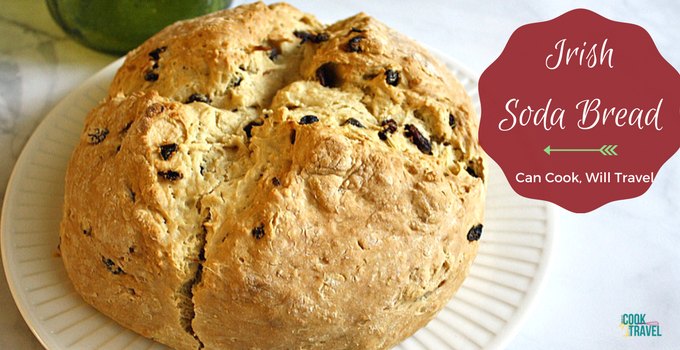 Dairy Free Irish Soda Bread
Yield 1 Loaf
St. Patty's Day is officially complete with a slice of this delicious bread!
Ingredients
Bread Ingredients:
1 3/4 cups Almond Milk (or nut milk you prefer)
2 tablespoons Apple Cider Vinegar
4 to 4 1/2 cups AP Flour
1 tablespoon Sugar
1 teaspoon Salt
1 teaspoon Baking Soda
4 tablespoon Vegan Butter, frozen (Earth Balance is what I use)
1 cup Raisins
1 large Egg, lightly beaten
Instructions
Begin by preheating your oven to 425.

Next you'll make your dairy free version of buttermilk by measuring out 1 3/4 cup of almond milk and adding 2 tablespoons of apple cider vinegar. Then give it a stir and let it sit for about 15 minutes.

Meanwhile, in a large bowl combine 4 cups of flour, 1 tablespoon of sugar, 1 teaspoon of salt and 1 teaspoon of baking soda. Then add the chilled butter to the flour, and use your hands to help work the butter into the flour until the flour looks like coarse meal.

Add the raisins to the flour and stir. Then create a well in the middle of the flour and add the beaten egg and dairy free buttermilk (your almond milk & vinegar mixture). Stir with a wooden spoon until the liquid is incorporated adding more flour as needed.

Being careful not to overwork the dough, turn it out onto a floured surface and shape it into a circle. Use a serrated knife to cut an "X" shape on the top that is about an inch deep.

Transfer the bread to a lined baking sheet, and bake for 35-45 minutes or until you insert a toothpick into the center and it comes out clean. Let it stand on the baking sheet for 5 minutes and then transfer to a cooling rack. Eat the bread while still warm or at room temperature and enjoy!
Courses Bread
Cuisine Irish
Amount Per Serving

Calories 161

% Daily Value

Total Fat 3 g

5%

Cholesterol 12 mg

4%

Sodium 250 mg

10%

Total Carbohydrates 30 g

10%

Dietary Fiber 1 g

4%

Sugars 6 g

Protein 4 g

8%
Recipe by Can Cook, Will Travel at https://cancookwilltravel.com/dairy-free-irish-soda-bread/